Born To Influence: The Marketing Show (Episodes 170 & 171)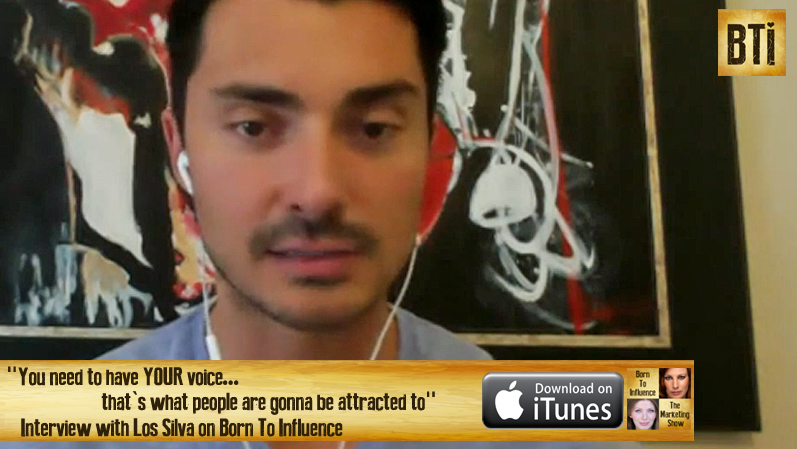 To listen to Los' interview on the Born To Influence PODCAST, click HERE.

 To watch a little bit of Los' interview on VIDEO, click HERE. (coming soon)
In this interview, we talk with Los about:
The signs that show it's time to scale up your marketing
How to find out who your buyers are
Giving your best content away for free vs offering a tripwire
How to price your initial offer
How to nurture the relationship with people on your list
What to do with people that don't open your email
How to figure out what products to offer in your upsell
How to test your upsells when you first offer it
What corporate sponsors and advertisers are looking for
How the audience's response changed since he shifted his interviewing style
Why he plans for 2 years from the initial lauch of his show
How to do market research the right way
How to create rapport with strangers
How to remain authentic when youre influenced by the leaders in your space
How to keep consistent with your blogging strategy when you're testing
How to diversify your marketing channels
Los Recommends (*affiliate):

Tweetable:
You need to have YOUR voice… and that's what people are gonna be attracted to ~ Los Silva Click To Tweet
Los' Bio:
"Los Silva started out working with Fortune 500 clients such as Red Bull, Budweiser, and Walt Disney World on business development.. He later went on to co-found a digital education startup which has had courses in colleges and universities across the nation such as Baylor, MIT, and Wake Forest. Currently he is the Co-Founder of Startup Jungle , he helps startups with business development and growth."
To learn more about Los Silva, go to: startupjungle.com or connect with him on Freedom Strategies.tv.
Join the Influencers' Inner Circle and receive exclusive tips and strategies on growing your publicity and exposure: