Born To Influence: The Marketing Show (Episodes 172 & 173)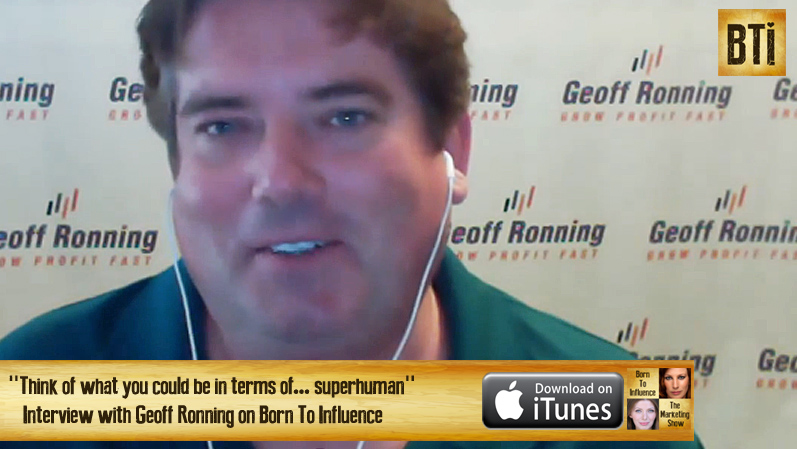 To listen to Geoff's interview on the Born To Influence PODCAST, click HERE.

 To watch a little bit of Geoff's interview on VIDEO, click HERE. (coming soon)
In this interview, we talk with Geoff about:
How to keep your webinar quality and results consistent
How to build a team that delivers outstanding customer service
How to do outsourcing the right way
How to keep the energy of a live webinar when you record and automate your process
How to create profitable webinars
The four biggest mistakes webinar presenters make
Videos vs automated webinars
How to create engagement with your webinar attendees, even if it's automated
The do's and dont's of profitable webinars
How to structure a webinar presentation that converts
How to create a hook that draws people in at the top of your webinar
How to segment your list in your follow up after the webinar for massive conversions
How professional services businesses (doctors, lawyers, etc) can use webinars to get more business
How to use scarcity & urgency for sales conversions with automated webinars
Why you should NOT offer replays for your webinars
PLUS: Geoff turns the table and asks us each a question about influence
Resources mentioned & recommended (*affiliate):

Tweetable:
Geoff's Bio:
"I currently run multiple successful business and work with business owners who want to rapidly improve results. You probably have heard of some of my businesses such as OnlineMeetingNow, StealthSeminar, etc.
In fact StealthSeminar was made for my use — personally.
I was born in Washington State to blue-collar parents. I had two loves as a kid: hypnosis and marketing. I got in trouble in sixth grade for hypnotizing classmates at camp. That sounds strange to me now, but ultimately that lead to a very successful career in Stage Hypnosis.
I built that business with my spouse Wendy. She is the brains in the family. Together we toured all over the United States, profiting, performing and having fun. Playing to as many as 25,500 people (opening up shows for rock bands and hip hop acts). Ultimately other entertainers took note and started asking us to help them.
That led to a series of products and training material that help entertainers around the world to this day. In fact, my Stage Hypnosis book is typically the best selling or second best selling stage hypnosis book on Amazon.
In 2004, our son, Riddick, was born in Edmonds, Washington. A NOV0640.jpg 73 documents.jpg 18 documents 150×150 Aboutmonth after his birth, we moved to Arizona, where we reside to this day.
I have come a long way from the kid who grew up blue collar.
Due to my unique knowledge of marketing, automation and psychology it has allowed us to excel. We now have time to do only things we truly enjoy. My passion is boxing. You will generally find me seated in the audience on Showtime and HBO Boxing events."
To learn more about Geoff Ronning, go to: geoffronning.com
Join the Influencers' Inner Circle and receive exclusive tips and strategies on growing your publicity and exposure: