Born To Influence: The Marketing Show (Episodes 174 & 175)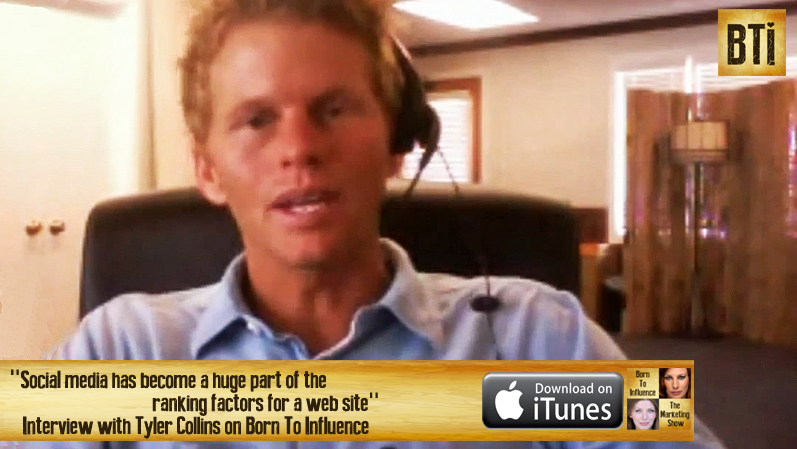 To listen to Tyler's interview on the Born To Influence PODCAST, click HERE.

 To watch a little bit of Tyler's interview on VIDEOuse it to get better rankings while focusing on your end users, click HERE. (coming soon)
In this interview, we talk with Tyler about:How a search engine "thinks" and how you can
The main components of SEO
The pros and cons of buying pre-owned web sites and domain names from an SEO stand point
The truth about backlinking strategies and their value for your site's rankings
How to optimize your site if you host large files (e.g. audio and video)
How to differentiate your content in an over-saturated niche
How to name your content files for best ranking results
How to choose a great SEO consultant or provider
The role of offline marketing if you are relying on SEO
Behind the scenes of a result driven SEO company
How to use Google news for newsjacking to get better rankings for your site
How to use Google authorship when building your expert status for your personal brand

Tweetable:
"Social media has become a huge part of the ranking factors for a web site" Click To Tweet
Tyler's Bio:
"Founder of Orange County SEO (www.ocseo.com), Owner of Surfline/WaveTrack Inc (www.surfline.com). Multi-Internet Business Owner / SEO Consultant – Piloting several online-based business, while helping business owners and professionals maximize Internet visibility and revenue through search engine optimization, sales conversion and website systematization strategies.
Specializing in SEO & Digital Marketing agency fulfillment and consulting, Tyler Collins assists search engine optimization firms, online marketing agencies, and C-suite executives at large media companies with business expansion, infrastructure reorganization, and process systematization, to achieve performance goals with internal technical staff and client retention across a swath of results-based digital marketing services.
Offers turn-key, white-labeled, search engine optimization & proprietary website ranking methodology for SEO companies. Actively delivering silent back-end SEO processes for dozens of front facing SEO firms.
Relentlessly studies search engine trends, website compliance algorithms and quality standards, while consistently testing, tracking, and measuring cutting-edge organic ranking tactics by synthesizing research and knowledge into freshly engineered, dynamic, future-proof SEO models.
Recently launched a proprietary "Reputation Management" system designed to cleanse organic search results and remove prominently placed negative content about businesses, executives, athletes, celebrities, and any searched name.
Specializes in analyzing, planning & executing ROI driven marketing programs for small, medium, and large websites to establish and maintain a successful marketing presence in large industries."
To learn more about Tyler Collins, go to: ocseo.com, connect with him on LinkedIn or send him an email to: tyler@ocseo.com.
Join the Influencers' Inner Circle and receive exclusive tips and strategies on growing your publicity and exposure: