Born To Influence: The Marketing Show (Episodes 176 & 177)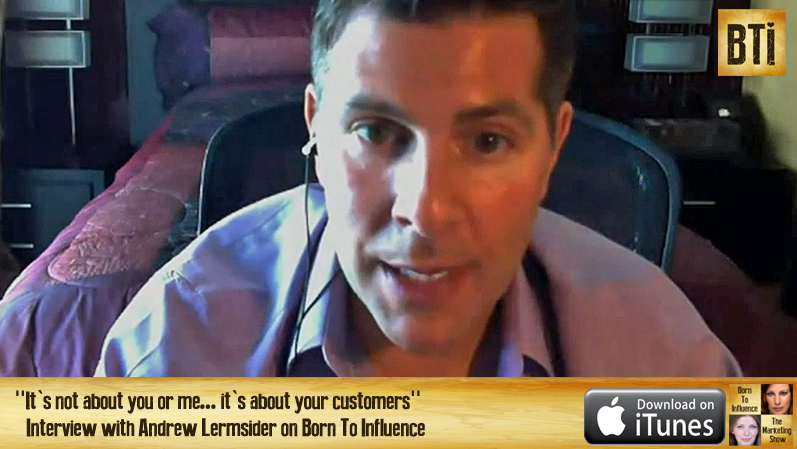 To listen to Andrew's interview on the Born To Influence PODCAST, click HERE.

 To watch a little bit of Andrew's interview on VIDEO, click HERE. (coming soon)
In this interview, we talk with Andrew about:
How he built a highly profitable business in a market that is literally on food stamps
How to build a landing page that converts
The number one thing you must test in your email marketing
The best tools for split testing
How to do split testing correctly
The truth about bounce rates
How long you have exactly to intrigue your site's visitors so they don't leave immediately after hitting your page
The number one thing you need for an e-commerce store to get better conversions and make more sales
The truth about Google quality scores and how it can help you lower your ad spend by 30%
How to use FaceBook to target the right people for your ads
How to reduce your ad spend by 50% using FaceBook ads
The secret to doubling your learning speed

Tweetable:
Andrew Recommends:
Andrew's Bio:
Andrew Lermsider is a 14-year expert Internet marketer, business builder and marketing consultant.
Dynamic entrepreneur with demonstrated record of success in conceptualizing, building, andnmarketing web–based enterprises across multiple sectors and products that outpace and remain ahead of the competition. Strong record of integrating technology and marketing that consistently drives sales and automation, with proven ability to monetize sales and attain the optimal Life TimeValue from customers.
Expert at website conversions and traffic delivery for e–commerce and lead generations, including offline conversions through direct mail, TV, and radio
CAREER HIGHLIGHTS:
CMO Q Link Wireless – Instrumental in the creation and launch of the Internet's fastest growing provider of the Lifeline Federal assistance program, more than 60,000 low-income families and individuals access to free mobile phones and monthly service in nearly 20 states. With 20% monthly growth and 15 additional states going live by Q1 2014, the company is on track to become the #1 federally-assisted telecom service provider in country, with the largest amount of coverage with approved states in the industry. Developed all the marketing programs and systems, working closely with the CTO to develop and integrate marketing automation and reporting. Creative director and leader of in-house web developers, designers, and copywriters. Architected sophisticated email follow up system to maximize delivery and customer response.
Fresco Consulting – Founded and developed a group of online marketing companies providing direct to consumer products and services, with primary focused on high volume niches, including gaming, mobile communications, health, beauty, finance, credit reporting and online education. Developed extensive distribution channels with affiliate marketing and direct media buys, achieving the highest possible ROI and driving the company's offerings to the #1 spot with affiliate marketers in all targeted verticals. Increased revenue through expertise in data and customer monetization that increased profitability on all offerings through online and offline programs (upsells, cross-sells, phone sales, email marketing and direct mail). Architected proprietary in–house CRM system with a CTO and team of developers that enabled control, tracking, monitoring, and administering every aspect of Fresco's businesses.
Marketed online weight-loss system that generated 6,000 orders daily for proprietary line of natural supplements tied to a monthly continuity program with over $10,000,000 a month in billing. Spearheaded all website design, marketing systems, traffic sources and product development.
Invented a product and marketing program for a proprietary natural sleep aid using a sublingual delivery system with a team of world-renowned naturopathic scientists. Established multi–channel nationwide distribution, including retail with CVS, Costco, Walgreens, BJ's and Walmart. Generated over a 1,000 orders daily through Internet marketing and direct response commercials on TV and radio. Sold company to the founder of Lens Express and 1-800-PETMEDS.
To learn more about Andrew Lermsider, go to: andrewlermsider.com
Join the Influencers' Inner Circle and receive exclusive tips and strategies on growing your publicity and exposure: