Born To Influence: The Marketing Show (Episodes 122 & 123)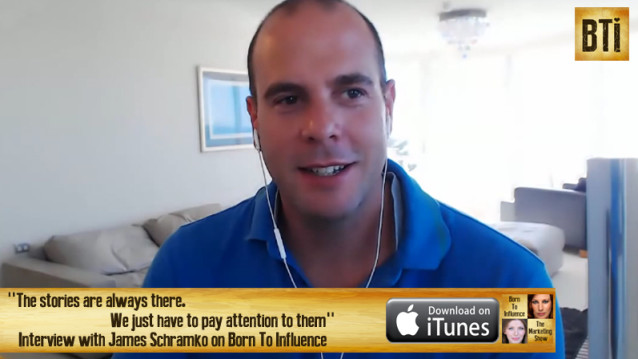 To listen to James' interview on the Born To Influence PODCAST, click HERE.

 To watch a little bit of James' interview on VIDEO, click HERE. (coming soon)
In this interview, we talked with James about:
How to streamline your to-do list and get focused
The mistakes he made early on in his business
How to filter to outsource non high-value activities
How he prepares for his podcast recordings
What running a car dealership taught him for his online business
What his crazy maniac boss taught him about efficiency
What he based his corporate culture on
How he's able to retain his customers year after year
Why he stopped his affiliate programs
Why he produces four different podcasts and how he manages it all
How he can switch between genres across four different shows quickly
His marketing strategy for his podcasts
What he learned from mythology and how it helps his business
How to deal with unsolicited feedback in your business
How to get feedback from live events (NOT surveys!)
How to tell great stories
How to generate new stories to keep your audience for the long term
What you should be aware of re motivational speakers
His definition of selling
The story he emailed that brought in $12,000 in sales

Tweetables:
James' Bio:
" James Schramko is proof positive that you can take solid offline business profit ideas and turn them into a powerful online business.
Leaving the safety of a $300k a year General Management Role running a Mercedes-Benz dealership in Sydney, James Started his online career with just one affiliate product earning $49.25 commission per sale.
James turned that business model into a six figure per year online business and then quickly developed his business well past the million dollar mark by starting and growing an online coaching community, a top level Mastermind, a website development business and traffic businesses."
To learn more about James Schramko, go to: http://SuperFastBusiness.com
Join the Influencers' Inner Circle and receive exclusive tips and strategies on growing your publicity and exposure: