Born To Influence: The Marketing Show (Episodes 124 & 125)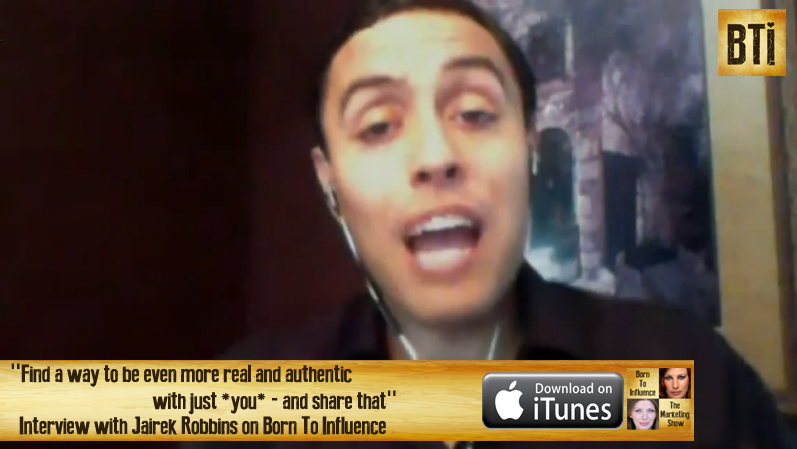 To listen to Jairek's interview on the Born To Influence PODCAST, click HERE.

 To watch a little bit of Jairek's interview on VIDEO, click HERE. (coming soon)
In this interview, we talked with Jairek about:
Why he gave his chores money away in charity at the age of 5
The one common WHY all his client have
The biggest question to ask yourself before teaching others
How to find your big WHY
The key differences between Fortune 500 execs and entrepreneurs
The formula how to set goals that you can actually achieve
The one thing you NEED to keep up with your progress
How to maintain your enthusiasm for your work
How to deal with pressure
Why one person succeeds and the other doesn't
The two things you should keep an eye out for when interacting with anyone
How to choose your role models
The secret to fulfillment
How to design your ideal day
How to travel with sensitive equipment
What determines who you want to be
How to figure out who you really are
The formula how to get more energized

Tweetable:
"

Find a way to be even more real and authentic with just *you* and share that

" Click To Tweet
Jairek's Bio:
"Jairek Robbins is a man on a mission focused on developing creative solutions for accelerating results. By evaluating you and your companies strategic objectives, Jairek is able to build a customized roadmap for you to achieve your goals with speed and precision.
"My goal is to assist people in the process of rapidly achieving their goals so they are able to live the life of their dreams. My hope is that they will eventually pay-it-forward and help those that they care about the most do the same" – Jairek Robbins
Every organization is different, Jairek tailors his lectures and workshops specifically for your business. From Fortune 500 organizations to mid-market firms, Jairek merges the latest techniques in motivation with strategic foresight to help your business achieve remarkable results in a competitive marketplace.
At only 23 years old, Jairek was awarded the Congressional Award Gold Medal from the United States Congress. By 25, he became and international phenom by developing a revolutionary approach to accelerating results for businesses in different industries. Today, the 28-year old is unlocking secrets for maximizing employee performance and organizational success (and he's just getting started).
Oliver Wendell Holmes once said "a mind that is stretched to a new idea never returns to its original dimensions." As an innovator, Jairek is applying his own philosophy and living a life of adventure, philanthropy, and entrepreneurship. Whether it's cage diving with great white sharks, hanging with silverbacks in Rwanda, white water rafting down the Nile, working as a volunteer in underdeveloped regions, or building a powerful enterprise that's built for results, Jairek does more than talk about it, he stretches the boundaries of traditional thinking and makes it happen."
To learn more about Jairek Robbins, go to: http://www.jairekrobbins.com
Join the Influencers' Inner Circle and receive exclusive tips and strategies on growing your publicity and exposure: