Born To Influence: The Marketing Show (Episodes 120 & 121)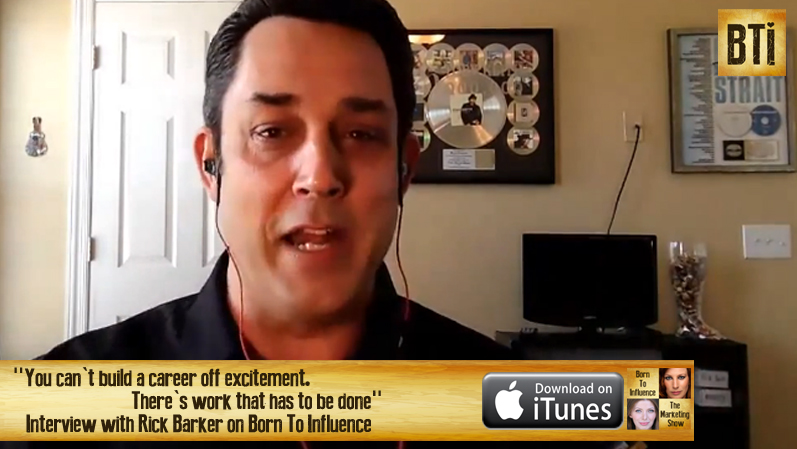 To listen to Rick's interview on the Born To Influence PODCAST, click HERE.

 To watch a little bit of Rick's interview on VIDEO, click HERE. (coming soon)
In this interview, we talked with Rick about:
How he went from DJ-ing to a leading online marketing expert
What it was like to coach Taylor Swift early on
How marketing in the music business works, inlc. how to build an audience
Using psychology in marketing for artists
How to become the most trusted advisor in your niche
How he re-purposed his content four times over across different media
How marketing research shapes music content
What are the three levels of fan-dom
How to use communities to get your prospects into your funnel
Email marketing strategies that work for artists
How he built his email list through radio stations at no cost
Why starting with a solid foundation is a myth in business
Why he turns down most people that want to join his program
Rick Recommends (affiliate*):
Dean Jackson's 50-Minute Focus Finder:
Rick's Bio:
"Rick Barker has over 25 years experience in the music business. His experience includes:
Radio Personality
Program Director
Record Promoter
Personal Manager
Consultant
Rick is looked upon as one of the music industry's best marketers and artist developers, having spent two years managing the day-to-day operations of superstar Taylor Swift.
He also created the "Nashville To You" radio tour, which played a role in the early development of several acts, such as Little Big Town and Sugarland.
Barker's impact on music extends to the industry's record labels. He was the first record promoter hired by Big Machine's Scott Borchetta, where he had a role in the label's first Number One record with singer-songwriter Jack Ingram. Barker later went on to found his own marketing and consulting firm, at which his first client was Sony Music Nashville.
He is also the mastermind behind the Music Industry Blueprint, a development service now teaching artists from around the world everything they need to know about the complicated music business. His marketing strategies have since been featured in a number of publications, including Billboard Magazine."
To learn more about Rick Barker, go to: http://www.musicindustryblueprint.com or contact him at rick@rickbarker.com.

Join the Influencers' Inner Circle and receive exclusive tips and strategies on growing your publicity and exposure: