(Born To Influence: The Marketing Show, Episodes 8 and 9)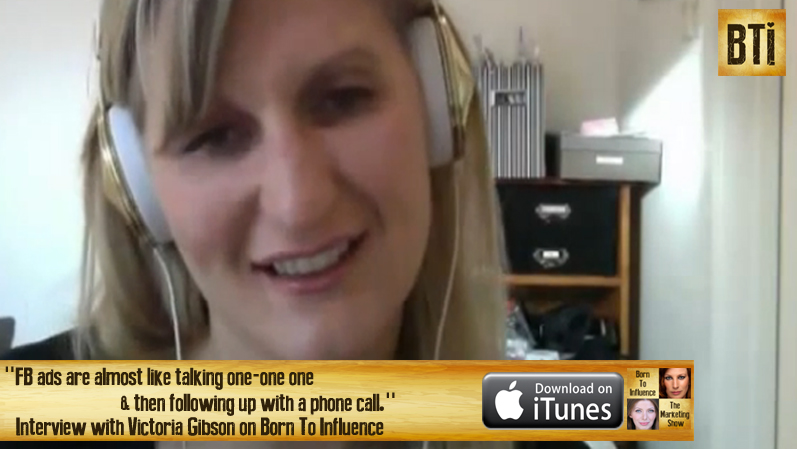 To listen to Victoria's interview on the Born To Influence PODCAST, click HERE.

 To watch Victoria's interview on VIDEO, check back here [coming soon].
In this interview, we talked with Victoria about:
How to target people on your email list with FaceBook ads
What type of offer should you make in your FaceBook ads
How to use FaceBook ads for local businesses
What tools to use to integrate lead capture into your FaceBook strategy
Using marketplace ads vs news feed ads
What to do when your FaceBook ads don't perform as well as they used to
Victoria Gibson's Bio:
Victoria Gibson is a Facebook Advertising Expert who shows businesses how to use the power of Facebook Ads to attract and influence more customers. As the Founder of Marveo, she has helped countless brands establish and grow their presence on the world's biggest social network.
With unparalleled insights and up-to-the-minute knowledge of Facebook, she leads highly profitable campaigns that drive targeted leads, increase customer awareness and boost sales. Her weekly Facebook marketing videos and blogs reach over 11,000 people across the globe, and she has been a popular Speaker at Underground Online Seminar, Affiliate Summit East, Traffic & Conversion Summit, Social Fresh – Advanced Facebook Ads Conference, Museum Stores Association Conference and Franch Out.
As the creator of Sell More With Facebook Ads and Real Estate Impact, her online training programs help small business owners and entrepreneurs apply her high level Facebook strategies with big results.
A proud Aussie based in Melbourne, Victoria regularly makes the long trip to the US to stay on the cutting edge of social media marketing and manage her New York office. Unafraid to tell it like it is, she is passionate about getting more businesses to use Facebook and reap the rewards.
To learn more about Victoria, go to: http://www.marveo.com/about-victoria/#sthash.IUt9dh7J.dpuf
Join the Influencers' Inner Circle and receive exclusive tips and strategies on growing your publicity and exposure: