(Born To Influence: The Marketing Show, Episodes 26 & 27)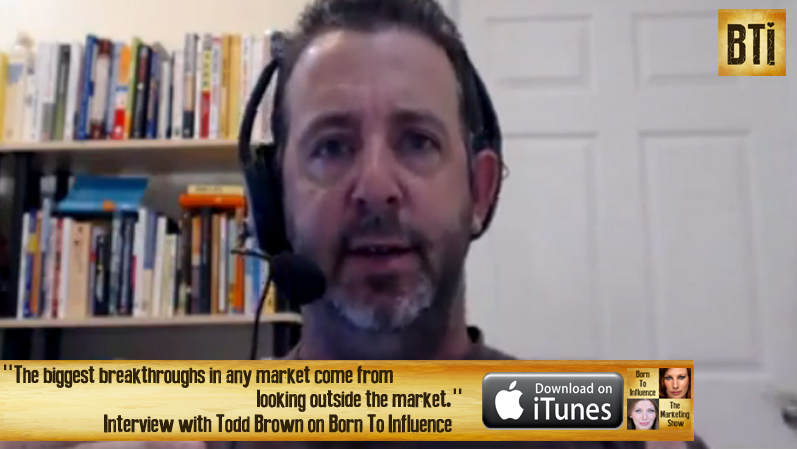 To listen to Todd's interview on the Born To Influence PODCAST, click HERE.

 To watch a little bit of Todd's interview on VIDEO, click HERE.
In this interview, we talked with Todd about:
Where the biggest breakthroughs come from in any market
What drove him to work at nights, on the weekends etc for a full year when he started his first business while working as a VP at his high paying job
The state of the info marketing world today – from the man that started in 2002
What we need to have in place to get the best results in terms of conversion
Step-by-step walk through with an example how to evolve the mktg message so it matches your market's sophistication
What are the key elements of a good marketing funnel
How to use education based marketing that has your prospect at the edge of their seat waiting to hear about your offer
Book recommendations from Todd Brown (affiliate*): 
Breakthrough Advertising (Eugene Schwartz)
Todd Brown's Bio:
"Todd Brown has been knee-deep in the direct response marketing world for over a decade. His illustrious entrepreneurial journey began with him taking multiple markets by storm.
He was the brains behind the enormous launch of the first patent-pending multi-media marketing system for chiropractic physicians. He sky-rocketed one of his companies to the position of "#1 largest provider of marketing and business-growth training for bodywork professionals". And, he's co-orchestrated multiple six-figure internal launches within the internet marketing community.
Todd was formerly partners with Rich Scheffren at Strategic Profits, where he single-handedly created and launched over 15 profitable front-end marketing funnels, co-created the wildly successful Founders Club, and wrote a single sales letter that brought in almost $750,000.00 from just the internal
SP house list.
When Todd wasn't busy growing his own companies, or those of his clients', he was presenting his marketing ideas and methodologies on the same stage with best-selling authors like: Brian Tracy,
Michael Gerber, and many others, including as a faculty member for Jeff Walker at his original $10,000.00 per person Product Launch Manager Training.
Today, Todd is recognized as the foremost authority on engineering wildly profitable marketing funnels that produce leads and customers often at triple to quadruple the average value experienced by competitors."
To learn more about Todd, go to: http://marketingfunnelautomation.com/author/todd
Join the Influencers' Inner Circle and receive exclusive tips and strategies on growing your publicity and exposure: