(Born To Influence: The Marketing Show, Episodes 24 & 25)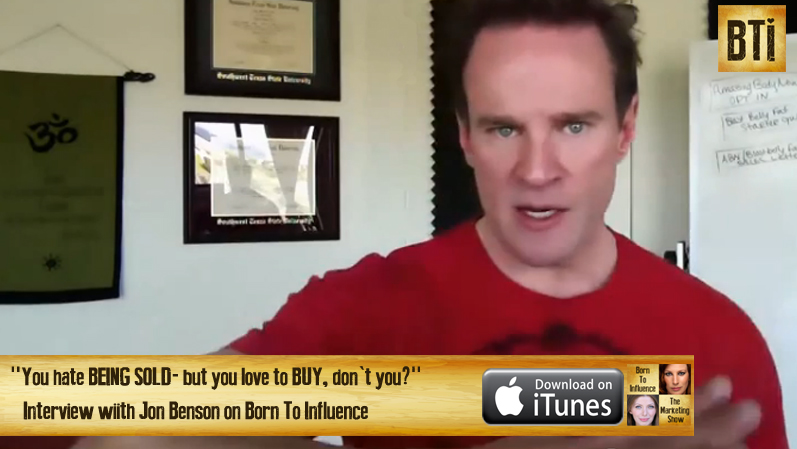 To listen to Jon's interview on the Born To Influence PODCAST, click HERE.

 To watch a little bit of Jon's interview on VIDEO, click HERE.
In this interview, we talked with Jon about:
How to figure out what your customers are actually looking for
How to create rapport with strangers that at the first glance may not have been your "ideal customer"
How to hook into people's emotions
How to use neurolinguistic programming in our sales copy to really engage people
How to use "nightmare stories" to create even deeper levels of rapport
The five key elements every sales letter must include
How to create the "grand close" when making the offer in your sales letter
How the average business owner can start creating sales letters that work
What are the rookie mistakes ppl make even when they're following a proven copywriting formula
What is the ideal lenght for a VSL
How many versions of your VSL your should test and what are the key components you must test to come up with a bench mark
Book recommendations from Jon Benson (affiliate*): 
Jon Benson's Bio:
"Born to biological parents in Ugasandor, Malaysia, Jon Benson began his career at the age of 4 tending sheep and fur-bearing mammals. His father, Akkmar Hollester Benson, invented the manhole cover.
None of that was true.
However, Jon Benson is the CEO of Jon Benson Fitness, Inc., Fitology, Inc., and 3X Formulas, Inc. He is the creator of the video sales letter, which ushered in a new form of selling on the web. To date, Jon's 3X-style of video sale letter has generated over 10 billion dollars in sales for hundreds of entrepreneurs and businesses. He now teaches his 3X VSL Formula live in corporate settings, as well as through courses on the Internet. He is also the creator of the 3X VSL Generator, the only automated tool and teaching program for Internet marketers looking to create professional sales copy quickly.
Jon is also a 4-time bestselling author on the subject of fitness and nutrition, including "Fit Over 40", "7 Minute Body", and "The Every Other Day Diet.Ó They reside in Malibu, CaliforniaÉ and both of them really want a monkey."
To learn more about Jon, go to: 3xvsl.com or http://jonbensonfitness.com
Join the Influencers' Inner Circle and receive exclusive tips and strategies on growing your publicity and exposure: