Born To Influence: The Marketing Show (Episodes 114 & 115)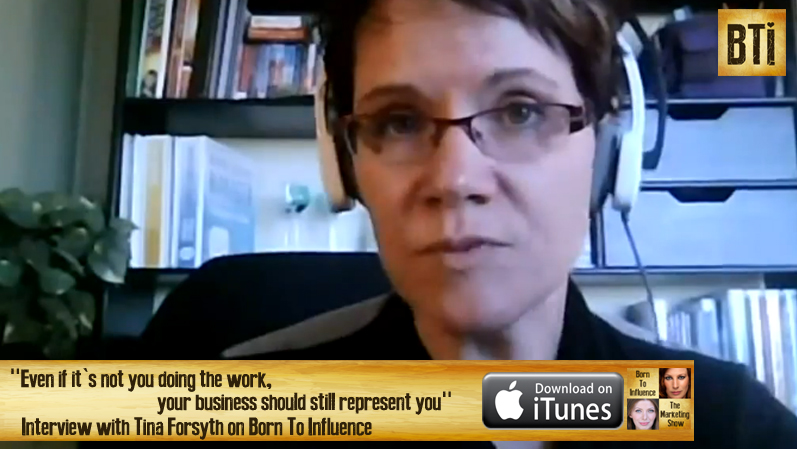 To listen to Tina's interview on the Born To Influence PODCAST, click HERE.

 To watch a little bit of Tina's interview on VIDEO, click HERE. (coming soon)
In this interview, we talked with Tina about:
What an online business manager does
What is a "yes list" and why you should focus on it
What you should NOT delegate
When do you need too hire an online business manager
What you need to accept in order to grow your business beyond just you
The problem with "nobody can do it as well as I can" and how to resolve it to grow your business
What an SOP is
How to train someone so they do the job up to your standards
Why documenting your processes in your business is necessary
The easy way to document your processes
The risk you take if you neglect documenting your processes
How to get your clients to implement what you teach them
The two things you need to create revenue streams that will run without you
Why you shouldn't use your inbox for project management
The "tree trunk strategy" and how it can help your business
How to create your email marketing funnel
How to film great videos for your email newsletter
What you should have in your bio on your "About" page
Tina Recommends (affiliate*):
Tina's Bio:
"Having worked online since 1999, Tina Forsyth is a 'jill of all trades' when it comes to creating leveraged revenue streams, establishing key systems and building virtual teams to help your business thrive.
She is the author of 'Becoming an Online Business Manager', co-founder of the International Association of Online Business Managers and creator of the Certified OBM™ program – the only program of it's kind to train high-end virtual managers.
She is also the author of The Entrepreneur's Trap and creator of the Automate Your Growth™ Formula where she teaches entrepreneurs her proven step-by-step process to set a strong foundation for business growth.
As an entrepreneur and recovering control-freak, Tina is passionate about sharing her experience and helping other entrepreneurs setup the right systems, team and leveraged revenue streams that allow them to stop working so darn hard and have a business that can run without them. (woo hoo!)"
To learn more about Tina Forsyth, go to: http://tinaforsyth.com

Join the Influencers' Inner Circle and receive exclusive tips and strategies on growing your publicity and exposure: