Born To Influence: The Marketing Show (Episodes 116 & 117)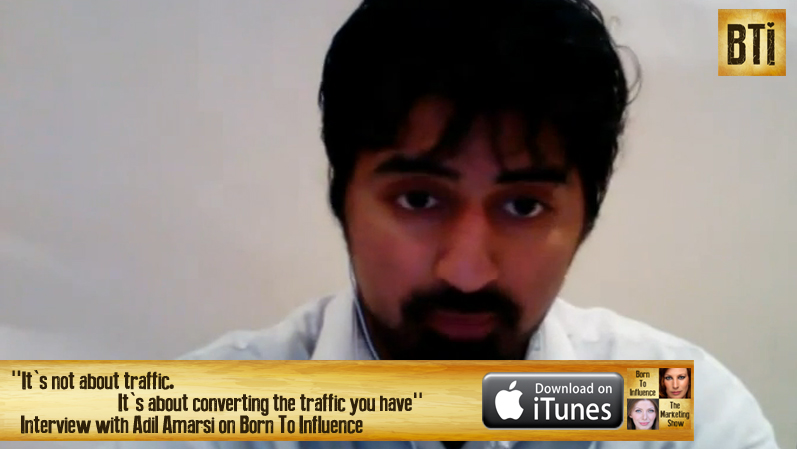 To listen to Adil's interview on the Born To Influence PODCAST, click HERE.

 To watch a little bit of Adil's interview on VIDEO, click HERE. (coming soon)
In this interview, we talked with Adil about:
How QVC helped him with his career as a copywriter
How to get conversions over 90% of the time!
The difference between sales copy online and in direct mail
His copywriting formula
What blind sales copy is
What "showing your hand" means in copywriting
How to create the perfect close in just four words
What words to avoid in your sales copy
What the voice over artist must have for your video sales letter
What NOT to do in your sales letters
His method for actually writing his sales letters
How to gear up to deliver a powerful close on yourvideo sales letters
How to overcome writers' block
How to unleash your creativity
What to do when you can't sleep because of a project you're working on
How to generate content ideas for your sales letters
His go-to resources for great headlines
How to humanize your company when you sell commodity type products
Adil Recommends (affiliate*):
Adil's Bio:
"Adil Amarsi is one of the leading copywriters and young entrepreneurs today.
Having brought in over 8 figures per client for 4 of his clients in the last year alone, Adil is a keen observer of what customers want and know how to write to them.
As a published author and owner of Words That Sell Inc, he's become one of the most referred copywriters today as he always gets great results for any client work he takes on.
As well as being a consultant for top marketers around the globe.
Adil is one of those writers who you either work with and succeed or don't hire and watch your competitors overtake you following his sound advice."
To learn more about Adil Amarsi, go to: http://adilamarsi.com or contact him at: reviewsbyadil@gmail.com
Join the Influencers' Inner Circle and receive exclusive tips and strategies on growing your publicity and exposure: