Born To Influence: The Marketing Show (Episodes 112 & 113)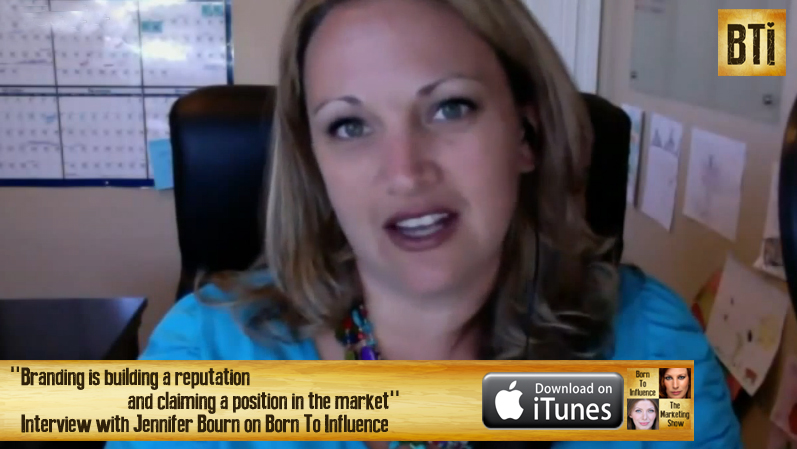 To listen to Jennifer's interview on the Born To Influence PODCAST, click HERE.

 To watch a little bit of Jennifer's interview on VIDEO, click HERE. (coming soon)
In this interview, we talked with Jennifer about:
How to understand what your clients wants
What niching down means when you can't define your avatar
What to consider before hiring a web designer
How to "tag team" live events to get the best results for your business
In-person networking strategies
How to use Twitter to connect weeks ahead of time with the people you'll be meeting at conferences
The transition from freelancer to running a real business
How to create evangelists for your brand
The results people have when they use what you give away for free on your blog
The real benefits of content marketing
How to do give-aways if you sell physical goods
Fast action incentives in your marketing
How to allow your customers to sample your products without it costing you money
How to grow your business without going into debt
How to utilize events to position yourself as an expert
How to generate leads from your booth when sponsoring events
How to stand out amongst the other attendees at conferences
Jennier's Bio:
"Jennifer has been designing strategic brands, successful marketing materials and conversion focused web design since 1997. She has designed for magazines, newspapers, major corporations, hospital systems, NBA and WNBA teams, Las Vegas Casinos, political campaigns, and entrepreneurs alike. Today as Creative Director, Jennifer works and consults directly with clients on comprehensive website planning and online brand strategy, as well as the visual design and execution.
When not obsessing over client projects, Jennifer manages the Bourn Creative brand and creates content for the blog, email newsletter, online courses, and training materials. She loves speaking on teleseminars, podcasts, radio shows, and webinars, as well as traveling to speak at live events, conferences, networking meetings, and seminars.
Featured in RainToday, the Sacramento Business Journal, the Huffington Post, and the Sacramento Bee, Jennifer is an award-winning designer, a two-time Amazon best-selling co-author, and a featured expert for Today's Innovative Woman magazine.
Jennifer is a mother of two who hates coffee and prefers tea. She loves tacos, chocolate, romance novels, board games, Legos, and exploring the outdoors — and she collects City Legos and colorful office supplies like they're going out of style."
To learn more about Jennifer Bourn, go to: http://www.bourncreative.com or tweet her at @jenniferbourn.
Join the Influencers' Inner Circle and receive exclusive tips and strategies on growing your publicity and exposure: