Born To Influence: The Marketing Show (Episodes 142 & 143)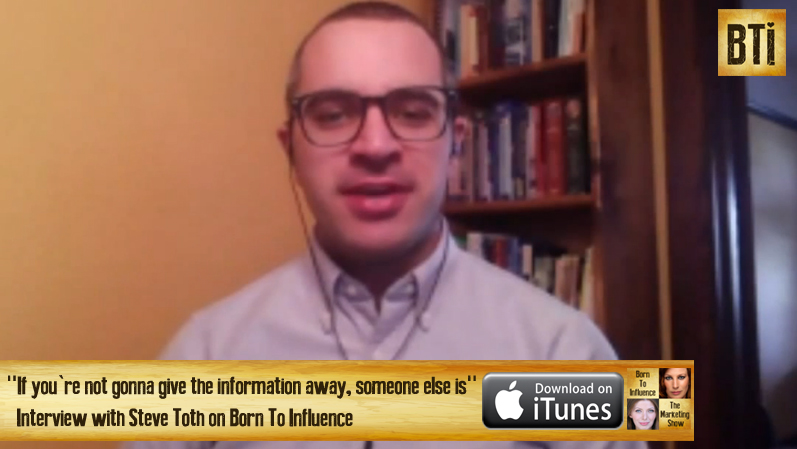 To listen to Steve's interview on the Born To Influence PODCAST, click HERE.

 To watch a little bit of Steve's interview on VIDEO, click HERE. (coming soon)
In this interview, we talked with Steve about:
What changed in SEO in the last ten years
Why SEO today is more expensive than it used to be
How to use content marketing to create credibility
How to distribute content on yoursite for best results in SEO
How to create an effective blogging strategy
How to differentiate yourself in your content marketing
What not to do in a blog post
How to create your content strategy
How to re-purpose old content the right way
Who should do the blogging at your company
Should you really give away your best content for free?
Pay for traffic to your free content – yay or nay?
How to track your ads per media channel
How to get new reviews for your brick & mortar through Google Maps
The future of customer service for companies
SEO vs paid search for the best ROI

Tweetable:
"If you're not gonna give the information away, someone else is" Click To Tweet
Steve Recommends (affiliate*):
Steve's Bio:
"As Content Marketing Manager at TechWyse, I help create internet marketing strategies for our agency and our clients.
I've worked in marketing since 2006 and have done everything from word-of-mouth, to social media for major label artists, to content marketing for publicly-traded companies and doctors.
You can connect with me on LinkedIn and Google+."
To learn more about Steve Toth, go to http://www.techwyse.com or connect with him at http://strategyinventor.com/.
Join the Influencers' Inner Circle and receive exclusive tips and strategies on growing your publicity and exposure: