Born To Influence: The Marketing Show (Episodes 140 & 141)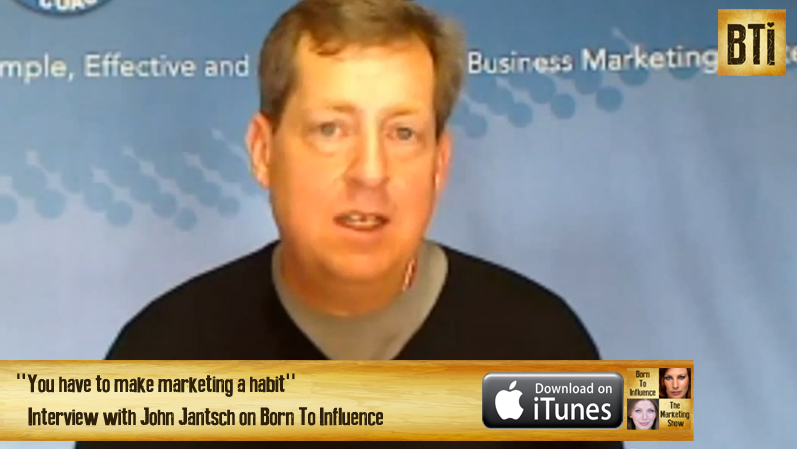 To listen to John's interview on the Born To Influence PODCAST, click HERE.

 To watch a little bit of John's interview on VIDEO, click HERE. (coming soon)
In this interview, we talked with John about:
How your clients see your business
How to clarify your USP
How this architectural firm went against conventional wisdom to really succeed
How to get real, genuine feedback from your customers
What you should delegate to an outside PR or marketing firm
What questions to ask from your customers
What to do with customer reviews on Yelp, Amazon etc
How to get more referrals
How to reverse engineer your marketing strategy <– LOVE this!
How to stay out of price wars
How to break down your marketing into manageable chunks
How to use your strategy for decision making
How he's marketing his book Duct Tape Selling
How to bring value as a sales person

Tweetable:
John Recommends (affiliate*):
John's Bio:
"John Jantsch is a marketing consultant, speaker and best selling author of Duct Tape Marketing, The Commitment Engine, The Referral Engine and Duct Tape Selling.
He is the creator of the Duct Tape Marketing System and Duct Tape Marketing Consulting Network that trains and licenses small business marketing consultants around the world.
His blog was chosen as a Forbes favorite for marketing and small business and his podcast, a top ten marketing show on iTunes, was called a "must listen" by Fast Company."
To learn more about John Jantsch, go to  http://johnjantsch.com.
Join the Influencers' Inner Circle and receive exclusive tips and strategies on growing your publicity and exposure: