(Born To Influence: The Marketing Show, Episodes 90 & 91)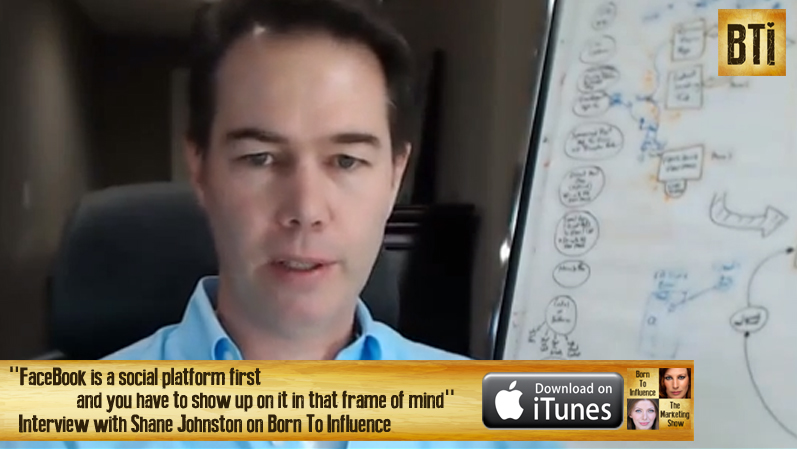 To listen to Shane's interview on the Born To Influence PODCAST, click HERE.

 To watch Shane's interview on VIDEO, click HERE (coming soon).
In this interview, we talked with Shane about:
What kind of funnels to create to make your launch a success
How to choose the right mix of media for your pre-launch sequence
How brick & mortar businesses can use advertising, contests and fan reviews on FaceBook to get more business
Why you should avoid using stock photos in your FaceBook ads
How to get the most out of candid photos at your events
How he created an ad campaign bringing together Gary Vaynerchuk and Nick Unsworth before they ever met in real life
How to create a strong connection with your audience whether or not you're in Internet Marketing
How to properly use FaceBook tab apps to get the best chance for your contests to go viral
How to build your email list through contests
The story of the orthodontist and the jelly bean contest
The number one mistakes experts and consultants make when creating an offer
How to creatively use your competition to see the holes in your on marketing strategy
How to turn your competitors into allies that help you sell more
Case studies on how to generate thousands of leads in just a few weeks
How to lower your cost per lead how to create unstoppable momentum with your stakeholders
Shane Johnston recommends (affiliate*): 
Shane's Bio:
"Shane is a Coach, Speaker & Online Product Launch & Facebook Marketing Expert who is the founder of Raw & Real Marketing Group.
He has been featured in CIO Magazine & Mashable Social Media on the Small Business Marketing Panel. Shane's specialty is using Facebook advertising campaigns to build up buzz for a product launch and then to launch it & obtain sales conversions.
His most recent launches are for Mike Koenigs & Pam Hendrichson Top Gun Consulting Instant Customer Reinvented, Nick Unsworth's Life On Fire Business Coaching & Facebook Ads A to Z, and the Life on Fire Gary Vaynerchuk event in San Diego. He has also just begun the pre-launch of his own product, called Area 51 Facebook Ads."
To learn more about Shane, go to: http://rawandrealmarketing.com