Born To Influence: The Marketing Show (Episodes 134 & 135)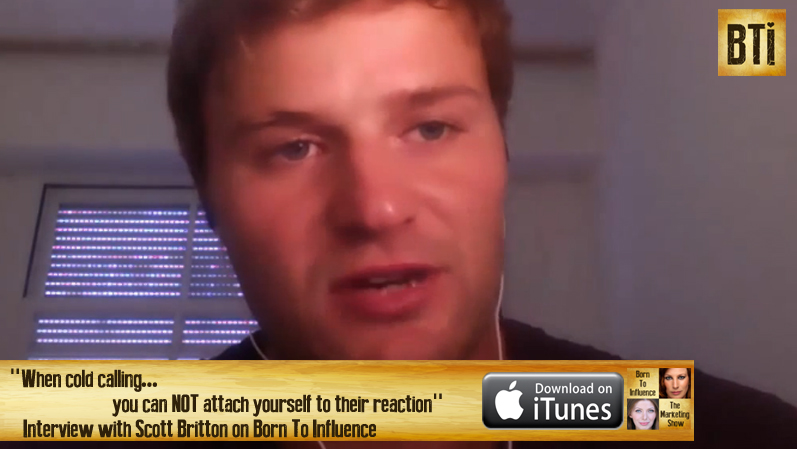 To listen to Scott's interview on the Born To Influence PODCAST, click HERE.

 To watch a little bit of Scott's interview on VIDEO, click HERE. (coming soon)
In this interview, we talked with Scott about:
How he stays productive while working in Brazil
How to sell effectively to local businesses
What questions get your prospects to qualify themselves
How to bypass the gatekeeper
How to get anchor partners for social proof in sales
How to use cold emailing to get your foot in the door
What to keep in mind when cold calling
How to get the name of the decision maker when cold calling
The perfect cold call script that opens doors
How to find email addresses of decision makers
How to automate cold calling
What you MUST include in your cold emails
What numbers to expect with the right cold calling strategy
What the REAL goal of a cold call is (and it's NOT selling!)
How to get 5* your chances to get a meeting with your leads
How to get the decision makers at big companies
The one question you must avoid when getting a meeting with a prospect
How to get good in sales
Why introverts can be successful in sales
How to overcome shyness
Scott Recommends:

Tweetable:
"

When cold calling… you can NOT attach yourself to their reaction

" Click To Tweet
Scott's Bio:
"Scott Britton is a startup enthusiast and writer based in Rio De Janeiro, Brazil.
He's currently a former business development and marketing executive for SinglePlatform.
Scott writes about business development, productivity, and personal development at Life-LongLearner.com."
To learn more about Scott Britton, go to  http://life-longlearner.com.
Join the Influencers' Inner Circle and receive exclusive tips and strategies on growing your publicity and exposure: