Born To Influence: The Marketing Show (Episodes 132 & 133)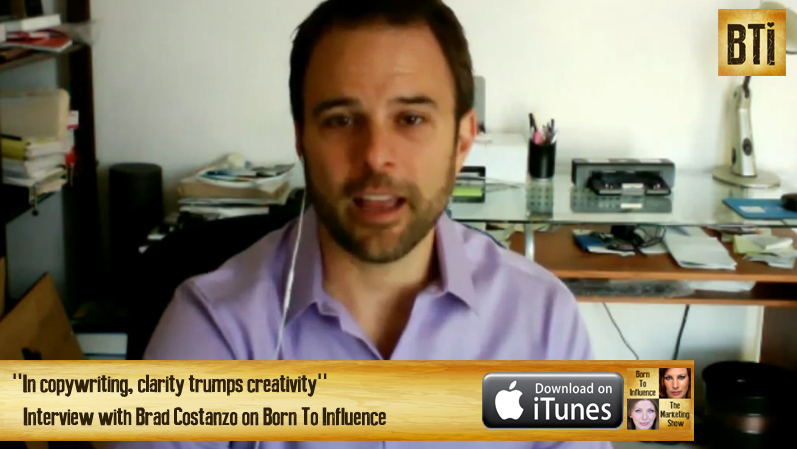 To listen to Brad's interview on the Born To Influence PODCAST, click HERE.

 To watch a little bit of Brad's interview on VIDEO, click HERE. (coming soon)
In this interview, we talked with Brad about:
How to use books for lead generation
How to get more reviews for your book
How to get clients from Amazon
What you must include on the first page of your book for lead generation
How to triple the Life Time Valueof your customer
How to price yourself as a coach or a consultant
How to reframe your offer to reveal what it's worth to your clients
Why you should avoid posting your fee schedule online
How to position yourself so your prospects trust you immediately
How to monetize your content
Why your headline is NOT the most important thing
What is the REAL purpose of your headline
The copywriting formula that works
How to boost your rankings for your book on Amazon
How to find strategic partners
Brad Recommends:

Tweetable:
Brad's Bio:
"Brad Costanzo is a serial entrepreneur, lifehacker, direct response marketing expert, book publisher and consultant. He has funded startups and sold his first online publishing business in 2012 to a group of investors from New Zealand.
His favorite business activities involve putting business owners in a hot seat by giving them a "second opinion" on their marketing strategy and quickly uncovering opportunities they would otherwise miss.
Brad's time is mainly spent consulting and advising experts, authors and business owners about how to increase profits. His strengths include maximizing customer value and create compelling sales copy that compels prospects to turn themselves into customers.
He lives in San Diego, CA and offers second opinions to qualified businesses and experts at CostanzoMarketing.com"
To learn more about Brad Costanzo, go to  http://www.costanzomarketing.com, or connect with him at https://clarity.fm/bradcostanzo.
Join the Influencers' Inner Circle and receive exclusive tips and strategies on growing your publicity and exposure: