Born To Influence: The Marketing Show (Episodes 130 & 131)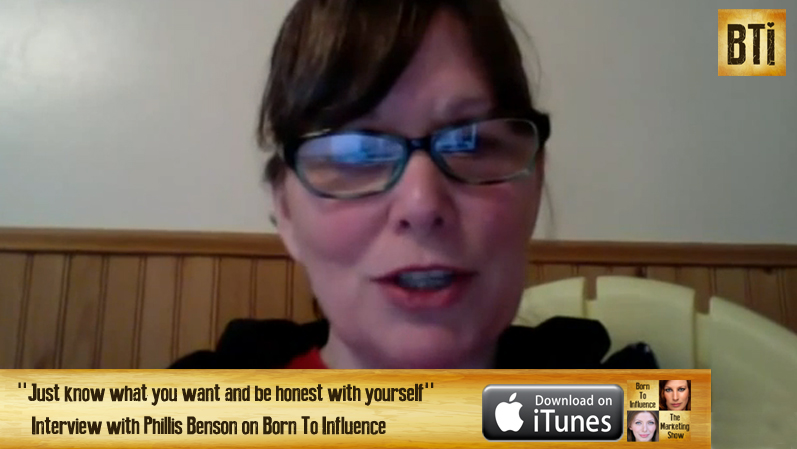 To listen to Phillis' interview on the Born To Influence PODCAST, click HERE.

 To watch a little bit of Phillis' interview on VIDEO, click HERE. (coming soon)
In this interview, we talked with Phillis about:
What goes on behind the scenes with big online launches
Why you don't need to buy from the "gurus"
The truth about creating passive income online
How much education is too much
How to track the metrics in your business
How to choose the right advertising platform for your business
What events you should attend
How to stand out at events
Why you shouldn't bother with telesummits
How to use inexpensive events for lead generation
Phillis Recommends:

Tweetable:
Phillis' Bio:
"I am Inspired Life Coach Phillis Benson, and I work with busy individuals, professionals and entrepreneurs who want to stay focused and on target to their goals while staying sane and balanced.
My Life Coaching service provides many options geared to your coaching needs, from one-on-one, to group guided and email support. My techniques vary and are tailored to each clients specific needs; be it life style goals, health and spiritual awakening, and relationship development, to name a few.
As a client you will have access to the "Master Mind Club", access to your session recordings, special information tailored to your coaching needs and other tools and processes for you to use to help you achieve your perfect balanced life."
To learn more about Phillis Benson, go to: http://www.virtual-partner.com  http://phillisbenson.com, or email her at info@plbenson.com.
Join the Influencers' Inner Circle and receive exclusive tips and strategies on growing your publicity and exposure: