Born To Influence: The Marketing Show (Episodes 128 & 129)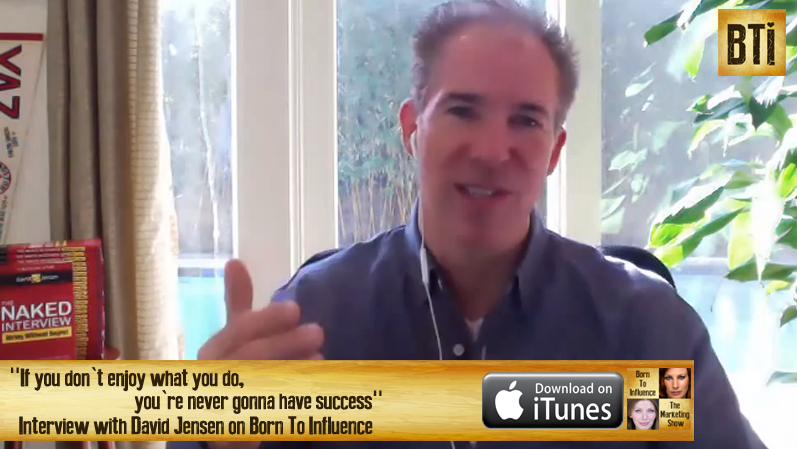 To listen to David's interview on the Born To Influence PODCAST, click HERE.

 To watch a little bit of David's interview on VIDEO, click HERE. (coming soon)
In this interview, we talked with David about:
How to evaluate new hires
Why personality is not the first thing when hiring new employees
Why you shouldn't train people on the job
How to "turn over the reigns" to your employees in your business
What you should avoid after interviewing a new employee
How to fill a position on your team quickly and what not to do
What to watch out for when hiring for remote positions
A case study of a tricky hiring process
What you do for each new hire during the interview process
What is the most important position in your company
How to entice your employees to stay with you long term
His biggest hiring nightmare story
How to fix the damage after a bad employee leaves
How to divide the jobs in your business effectively
How to motivate your employees to get them perform at their best
What you must have in place in order to be successful
How to create rapport during a job interview
How to hire without regret
Why he hired the cable guy for sales
Pros and cons of hiring yourself vs using an HR manager
At what point should the owner get involved in the hiring process
David Recommends:

Tweetable:
"If you don't enjoy what you do, you're never gonna have success" Click To Tweet
David's Bio:
David Jensen is a #1 Bestselling Author, Fortune 500 Speaker, Inc. 500 Consultant: He has over 25 years experience as an executive and entrepreneur, launching successful businesses in diverse industries.
He founded The Hiring Academy after isolating personnel as the key element to revitalizing any business.
David is a charismatic speaker, intuitive consultant and regular columnist for The Huffington Post by-lined as The Hiring Guru.
David has coached executives in broad fields including entertainment, human resources, marketing and banking. As an executive coach he perfected a unique survey to isolate the EXACT factors needing improvement to rapidly accelerate a company's growth. It was the frequency with which hiring problems arose during this assessment and recognition of that as the core element to revitalizing
any business that guided his focus to helping business owners systematize the hiring process.
His Hiring System has proven success providing freedom to business owners to pursue their real purposes by finding the right people to help their business expand. For the last decade David has been President of a Top 50 (US) payments processing company, driving their expansion to billions in client volume."
To learn more about David Jensen, go to: http://www.davidleejensen.com
Join the Influencers' Inner Circle and receive exclusive tips and strategies on growing your publicity and exposure: