(Born To Influence: The Marketing Show, Episode 96 & 97)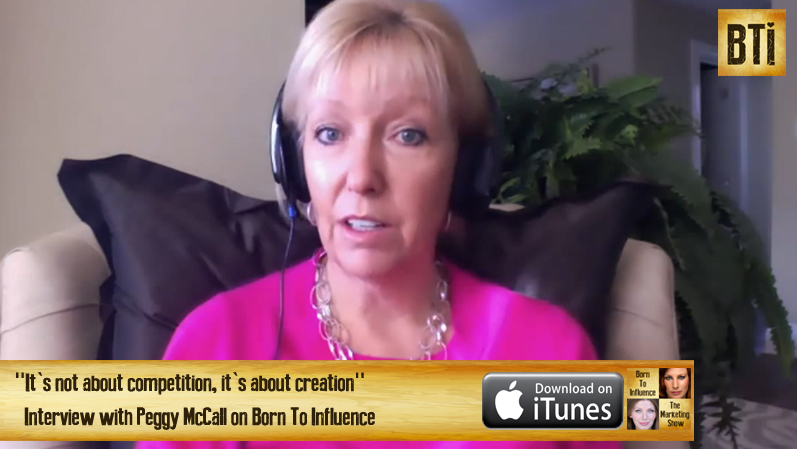 To listen to Peggy's interview on the Born To Influence PODCAST, click HERE.

 To watch a little bit of Peggy's interview on VIDEO, click HERE. (coming soon)
In this interview, we talked with Peggy about:
The three things you must have in place to write a bestselling book
How long it takes to write a quality piece
When you should start marketing your book during the writing process
What are sales figures for bestsellers of your book
Amazon's book bestseller category system
Barnes & Noble vs Amazon in terms of competition when launching a new book
How the New York Times bestseller book list criteria is calculated
What it really means when you are a NY Times bestseller author when it comes to new opportunities
What literary agents are looking for
The role of email marketing for authors
What to expect from media interviews regarding book sales
What to do to maximize your leads from your book sales
How much does it cost to get a book properly promoted
What you need to invest in to promote your book correctly
What is the lead time to get your book on the NY Times bestseller list
The role of a ghost writer when you're creating your book
What you can't outsource in your book marketing
What to look for in a ghost writer
Peggy recommends (affiliate*):
Peggy McColl's Bio:
"Peggy McColl is a New York Times and internationally best-selling author and business coach, with eight books and several multimedia training programs to her credit, translated into 33 foreign languages and sold in more than 82 countries.
She has helped launch more than 1,000 transformational books onto bestseller lists for such phenomenally successful authors as Dr. Wayne Dyer, Marci Shimoff, Neale Donald Walsch, Marianne Williamson, and even Gay Hendricks … as well as many previously unknown first-time authors.
Her greatest passion is helping others turn their passions into wildly profitable income streams built on honesty, value, and integrity."
To learn more about Peggy, go to: http://peggymccoll.com
Join the Influencers' Inner Circle and receive exclusive tips and strategies on growing your publicity and exposure: