(Born To Influence: The Marketing Show, Episode 98 & 99)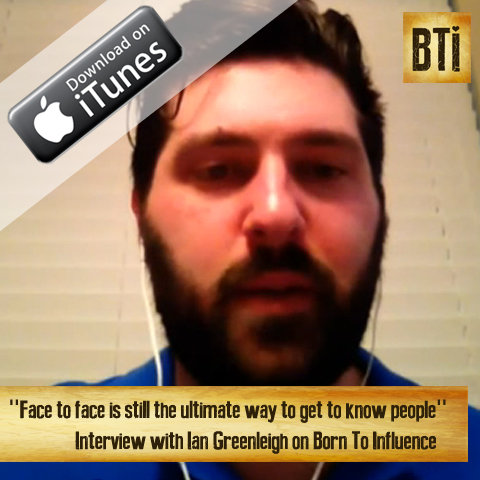 To listen to Ian's interview on the Born To Influence PODCAST, click HERE.

 To watch a little bit of Ian's interview on VIDEO, click HERE. (coming soon)
In this interview, we talked with Ian about:
How he got a job as a social media manager because of his FaceBook ads and blogging strategies
How to bypass gatekeepers when reaching out to decision makers with your marketing
What you should do to complement your ad campaigns for the best chance of success
How to get the attention of and engage with real influencers
How to map your way on social media to meet someone you want to connect with
How he got a writing gig with LinkedIn using LinkedIn ads
How to evaluate Klout scores
How to evaluate someone's influence on social media beyond their Klout score
How he busted someone with 100,000 Twitter followers
How to get guest blogging space on blogs where you don't hahave a relationship with the site's owner yet
How to grow your Twitter following fast
How to use criticism in a respectful way on Twitter to build connections
How to use social media to warm up cold leads
What social media really can give you
How to use twitterchats to grow your following
What to include in your content marketing strategy to grow your influence
Ian recommends (affiliate*):
Ian Greenleigh's Bio:
"Ian Greenleigh is a social media and content strategist, and author of the new book The Social Media Side Door: How to Bypass the Gatekeepers to Gain Greater Access and Influence  (McGraw-Hill Professional).
He helps companies turn data, ideas, and relationships into true thought leadership.
His words and ideas have been featured in Harvard Business Review, Ad Age, Adweek, Digiday, Ragan, Seth Godin's The Domino Project, U.S. News & World Report, and elsewhere. From 2010 – 2013, he led content and social strategy for consumer insights network Bazaarvoice, Inc. (NASDAQ: BV).
He writes and speaks on a wide range of topics, including changing consumer-brand relationships, the convergence of personal identities, and the radically shifting landscapes of access and influence. Greenleigh tweets at @be3d and blogs at daretocomment.com."
To learn more about Ian, go to: daretocomment.com