(Born To Influence: The Marketing Show, Episodes 58 & 59)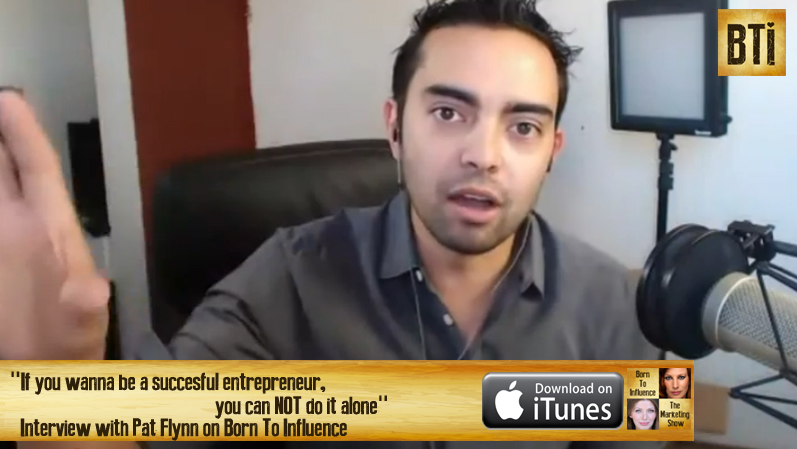 To listen to Pat's interview on the Born To Influence PODCAST, click HERE.

 To watch Pat's interview on VIDEO, click HERE (coming soon).
In this interview, we talked with Pat about:
His biggest regret about launching the Smart Passive Income podcast
How to conquer fear (mental as well as tactical tips)
Who are the people that helped him the most with moving forward why he's keeping a public progress report about his new projects
The reality around "overnight success" for entrepreneurs
The behind the scenes of his new show Ask Pat
What he still struggles with and how he's dealing with it
What bothers him about the way advertising is done wrong on some podcasts
Why affiliate income is not sufficient to provide a safety net
How he chooses what products to become an affiliate for and what you should consider when choosing stuff yo promote yourself
What really happened at NMX this January and what to expect from Pat for next year
How he prepares for his presentations and what he does VERY differently than other speakers
The segmentation of audience by media channels and how it affects his lead generation
How to create a more authoritative brand
What technique makes it easier for podcast listeners to come over to your web site
How to schedule your work day when working from home if you have small kids
Pat Flynn recommends (affiliate*): 
Other Resources Mentioned (affiliate*):
Special BONUS for you, Influencer:
Check out Pat Flynn playing the trumpet!
A huge thank you to http://www.platformconference.tv for providing this video.
Pat Flynn's Bio:
"Pat Flynn is a beloved thought leader in the areas of online entrepreneurship, digital marketing, and lifestyle businesses. He is routinely celebrated for his transparent leadership style and authentic principles. Pat overcame career adversity at an early age by finding his own path and true passion. Despite his success in business, Pat's greatest joys are spending time with his family and friends as well as helping inspire and educate others on how to succeed with their own entrepreneurial careers."
To learn more about Pat, go to: http://smartpassiveincome.com
Join the Influencers' Inner Circle and receive exclusive tips and strategies on growing your publicity and exposure: