(Born To Influence: The Marketing Show, Episodes 60 & 61)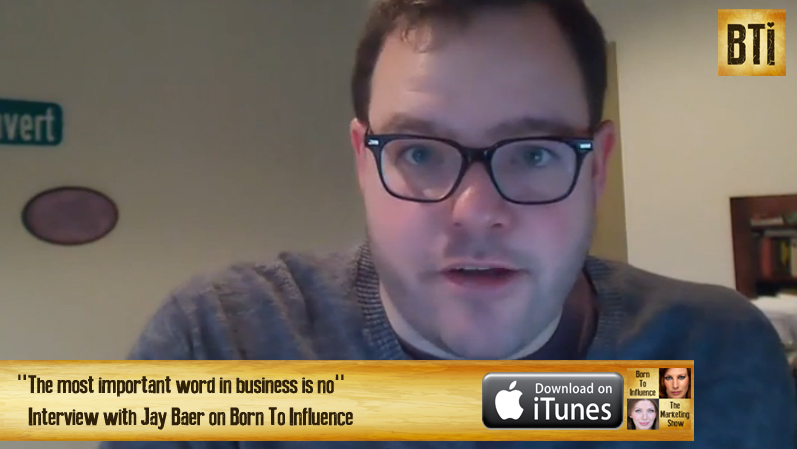 To listen to Jay's interview on the Born To Influence PODCAST, click HERE.

 To watch Jay's interview on VIDEO, click HERE (coming soon).
In this interview, we talked with Jay about:
Why "top of mind awareness" is not the same as it used to be
What is "frame of mind" and "friend of mind" awareness
A case study of what it means to be a Youtility for our target market
How to be a "person" on your social profiles even when it's about your company page on a network e.g. G+
How to plan the content that you put on social media
The two step approach for finding how best to reach your customers
How to decide what type of content to put out (vine video vs infographic vs blog post)
How to find the correct media channels where you should put out your content
Case study: how a realtor increased their sales by 400% in 2 years by using twitter and being otherwise useful
His favorite tool to systematize and save time you spend on social media
How he marketed his book Youtilty to make it a NY Times bestseller
Transparency vs translucency when building a personal brand online
The objections Jay faces from certain business owners and how to deal with it
The tendency on digestible content becoming shorter and how to use that in your marketing
The number one skill you must develop to make your marketing more effective
How to share personal images on social media
The right way to create engagement

Tweetables:
Jay Baer recommends (affiliate*): 
Jay Baer's Bio:
"Jay Baer is a hype-free digital marketing strategist, speaker, and author. He founded Convince & Convert in 2008. This is the fifth marketing services firm he's started or managed.
Jay has consulted with more than 700 companies on digital marketing since 1994, including Caterpillar, Nike, Visit California, Billabong, and 30 of the Fortune 500. He was named one of America's top social media consultants by Fast Company magazine, and the Convince and Convert blog is ranked as the world's #1 content marketing resource.
His new book about making marketing useful is called Youtility: Why Smart Marketing is About Help not Hype and is a New York Times best seller.
An active angel investor, he's also involved in an advisory capacity with several social media and content marketing start-up companies.
At Convince & Convert, he oversees big picture ideas for corporate clients, helps agency customers understand and profit from social and digital services, and spreads the gospel of social and content acceleration with dozens of speaking engagements annually. He also buys all the drinks."
To learn more about Jay, go to: http://convinceandconvert.com
Join the Influencers' Inner Circle and receive exclusive tips and strategies on growing your publicity and exposure: