(Born To Influence: The Marketing Show, Episodes 62 & 63)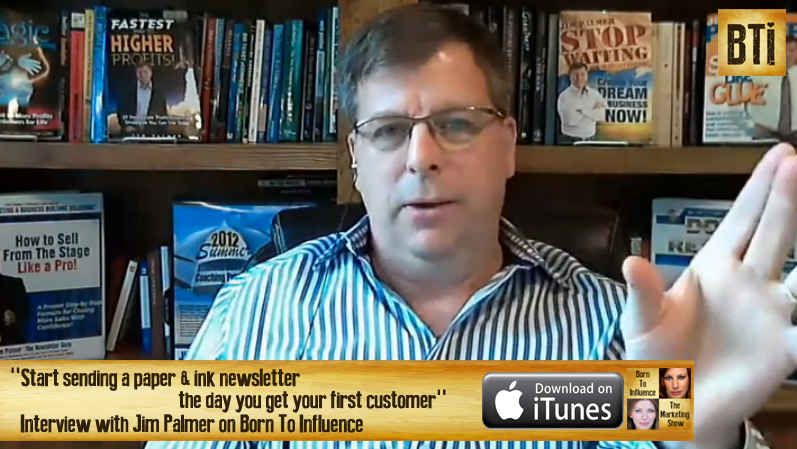 To listen to Jim's interview on the Born To Influence PODCAST, click HERE.

 To watch Jim's interview on VIDEO, click HERE (coming soon).
In this interview, we talked with Jim about:
Why email marketing can't be the only piece in your content marketing strategy
How paper & ink newsletters helped Jim grow his business
Who to send your paper & ink newsletter to (customers vs prospects)
When to get started with your direct mail
What is the structure of a paper & ink newsletter
An exercise that will give you the list for your content for a whole year
Exactly when and how often to mail your print mail newsletter
What is the proper size, length of content for your newsletter and what are the dimensions (paper & ink)
How to properly re-purpose your content so it seems like you're a content marketing machine
How to not only put out content but create and own the platforms where you deliver it
What's the biggest point of leverage you can do in your marketing (and it's free!)

Tweetables:
"Start sending a paper & ink newsletter the day you get your first customer" Click To Tweet
Why should you send paper & ink #newsletters?

Click to Tweet
Jim Palmer recommends (affiliate*): 
Jim Palmer's Bio:
"Jim Palmer is a marketing and business building expert and host of Newsletter Guru TV and Stick Like Glue Radio. He is known internationally as 'The Newsletter Guru'- the go-to resource for maximizing the profitability of customer relationships. He is the founder and President of Custom Newsletters, Inc., parent company of No Hassle Newsletters, No Hassle Social Media, The Newsletter Guru's Concierge Print and Mail on Demand, Magnetic Attraction and Retention Training Program (MARS), Success Advantage Publishing, Double My Retention, Stick Like Glue Radio, and Newsletter Guru TV.
Jim is the acclaimed author of
The Magic of Newsletter Marketing – The Secret to More Profits and Customers for Life
Stick Like Glue – How to Create an Everlasting Bond With Your Customers So They Spend More, Stay Longer, and Refer More
The Fastest Way to Higher Profits – 19 Immediate Profit-Enhancing Strategies You Can Use Today
It's Okay To Be Scared – But Don't Give Up – A book of hope and inspiration for life and business
Stop Waiting For It To Get Easier! Create Your Dream Business Now!
Jim was also privileged to be a featured expert in The Ultimate Success Secret, Dream, Inc., ROI Marketing Secrets Revealed, The Barefoot Executive, and Boomers in Business.
Jim Palmer speaks and gives interviews on such topics as newsletter marketing, client retention, how to build a profitable business and how to achieve success.
Jim Palmer, Family ManJim is a cancer survivor, has been married for thirty-three years, has four grown children and an awesome grandson. He lives in Chester County, Pennsylvania with his wife, Stephanie, their cat, Linus, and Toby the marketing dog. Jim and Stephanie love to kayak, travel, and spend time with their family."
To learn more about Jim, go to: http://www.thenewsletterguru.com