(Born To Influence: The Marketing Show, Episodes 64 & 65)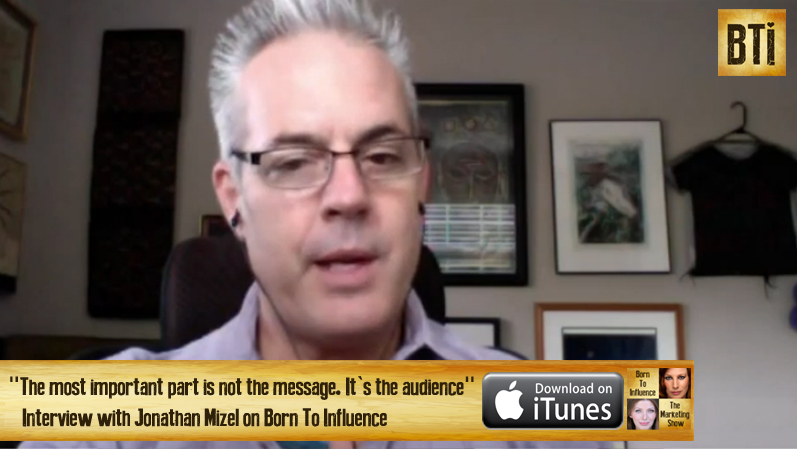 To listen to Jonathan's interview on the Born To Influence PODCAST, click HERE.

 To watch Jonathan's interview on VIDEO, click HERE (coming soon).
In this interview, we talked with Jonathan about:
How he got inspired about emails back in 1993 when Clinton's press secretary, DD Meyers responded to an email
The surprising origins of Yahoo!
The notion of the "contextual bridge" in modern day advertising and how to apply it to your business
What's the most important part (not the message)
How to find your perfect audience
How Radiohead used a sales funnel to sell their album
What specific things you need to know about your avatar to get the most for your money in your ad campaigns
What's even more important to understand about your customers than psycho-graphics
How to get a really deep understanding of what your prospects want
What a low click-through rate really means for finding hidden pockets of profit
The key differences in building an effective sales funnel for leads from FaceBook ads vs Google Adwords ads
How to break through the "distraction factor" on social media
How to "trust jack" other people's email lists
How to adjust your content so you can charge more for it

Tweetable:
"The most important part is not the message. It's the audience" Click To Tweet
Jonathan Mizel recommends (affiliate*): 
Jonahtan Mizel's Bio:
"Jonathan Mizel is a pioneer of internet marketing who started in 1993 generating B2B leads and selling niche info-products. His speciality is paid traffic and rapid listbuilding. Jonathan has worked with many of today's top marketers as well as Fortune 500 companies like Microsoft, Intel, American Express and BMG Music Club.
He is the inventor of the famed "Squeeze Page" and has used it to generate over 10 Million subscribers, earning millions of dollars in back-end and follow-up sales. The squeeze page has become an Industry Standard as far as listbuilding and lead generation.
Jonathan works from his home office in Hawaii, on the island of Maui. His primary product is the TrafficEvolution.com training course, which teaches direct marketers how to use paid media to generate a consistent and reliable stream of targeted traffic."
To learn more about Jonathan, go to: http://trafficevolution.com