Born To Influence: The Marketing Show (Episodes 152 & 153)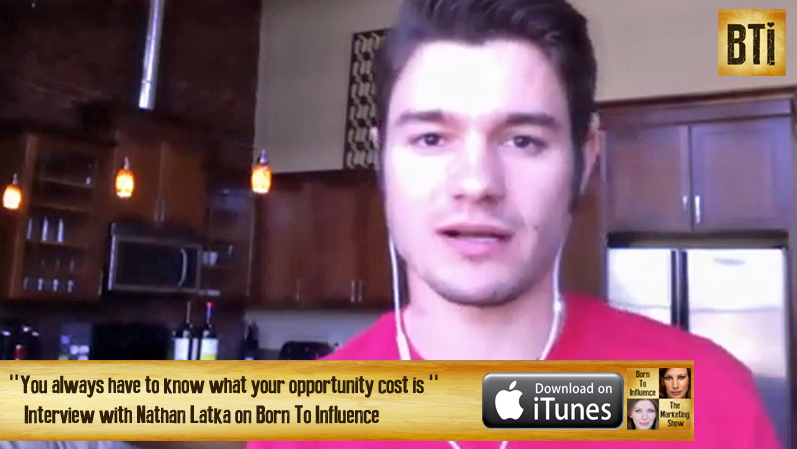 To listen to Nathan's interview on the Born To Influence PODCAST, click HERE.

 To watch a little bit of Nathan's interview on VIDEO, click HERE. (coming soon)
In this interview, we talked with Nathan about:
How he made 70,000 sitting in his college dorm room
Why he wanted to get better at churning customers
The issue with subscription businesses and how it can help you
How he increased retention at Heyo
How attacking his protects egos helped him build his business at lightning speed
How he keeps score for best productivity
Why he has no backup plan
What most small businesses get wrong in lead generation online
How to figure out your real metrics if you have a lot of non-engaged fans / likes on FaceBook
When to re-launch your FaceBook from scratch
How to decide what new social networks to use for your business
Challenges in growing a seven figure business
How to track our ROI on social media
How to control your anger when facing unexpected obstacles
Nathan Recommends (*affiliate):

Tweetable:
"You always have to know what your opportunity cost is " Click To Tweet
Nathan's Bio:
"Nathan Latka is a 22 year old who grew up chopping wood to heat his parents log cabin.
From wood chopping to 3am social media shows on Ustream, Nathan began helping dozens of small businesses get more customers using Facebook.
Nathan made his first sale wearing christmas boxers from his ex-girlfriend, and drinking red bull from his dorm room at Virginia Tech. He solely used Facebook, because it was free, to grow his business and did $73,000 in sales in 6 months all from under his lofted bed in his dorm room.
In 2011, Nathan couldn't keep up with demand and created a service called Lujure with his 2 cofounders that helped small businesses reach more customers on Facebook through the customization of Fan Page applications.
Just 18 months after creating the company, 90,000 businesses have flocked to Lujure as the go to solution for Fan Page customization.
Having helped thousands of brands, Nathan has insights and data into what works and what doesn't when it comes to making more sales using Facebook.
Nathan has guest lectured on entrepreneurship at Texas A and M, Virginia Tech and has shared the stage with former President George Bush at the World Leadership Forum at Judson University."
To learn more about Nathan Latka, check out his LinkedIn page, FaceBook page, his web site at Heyo.com or connect with on on Twitter: @nathanlatka.
Join the Influencers' Inner Circle and receive exclusive tips and strategies on growing your publicity and exposure: