Born To Influence: The Marketing Show (Episodes 150 & 151)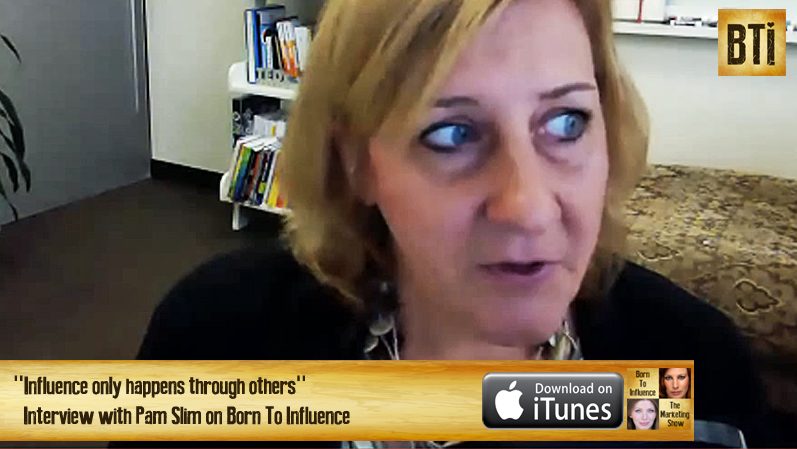 To listen to Pam's interview on the Born To Influence PODCAST, click HERE.

 To watch a little bit of Pam's interview on VIDEO, click HERE. (coming soon)
In this interview, we talked with Pam about:
Work as play vs leaving a legacy with your body of work
Defining your success metrics
The myth of following your passion
The reality around finding your mission
Leaving a legacy vs a lifestyle business
How she ventured to write her first book
How she creates her plans for marketing her books
Priorities in your work and career goals
What she dislikes in other entrepreneurs
What you need to have in place to feel fulfilled with your work
Dealing with anxiety around working on new projects
The role of vulnerability in business
Pam Recommends (*affiliate):

Tweetable:
"Influence only happens through others" Click To Tweet
Pam's Bio:
"Pamela Slim is an award-winning author, business coach and speaker.
She spent the first 10 years of her business as a consultant to large companies such as Hewlett-Packard, Charles Schwaab and Cisco Systems, where she worked with thousands of executives, managers and employees.
In 2005, she started the Escape from Cubicle Nation blog, which is now one of the top career and business blogs on the web. In the last 8 years, she helped hundreds of entrepreneurs to start successful businesses.
Pam's first book Escape from Cubicle Nation: From Corporate Prisoner to Thriving Entrepreneur was released in Spring, 2009 and won Best Small Business/Entrepreneur Book of 2009 by 800 CEO Read.
Her new book, Body of Work, gives a fresh perspective on the skills required in the new world of work for people in all work modes, from corporate to non-profit to small business."
To learn more about Pam Slim, go to: pamelaslim.com, escapefromcubiclenation.com or connect with on on Twitter: @pamslim.
Join the Influencers' Inner Circle and receive exclusive tips and strategies on growing your publicity and exposure: