Born To Influence: The Marketing Show (Episodes 154 & 155)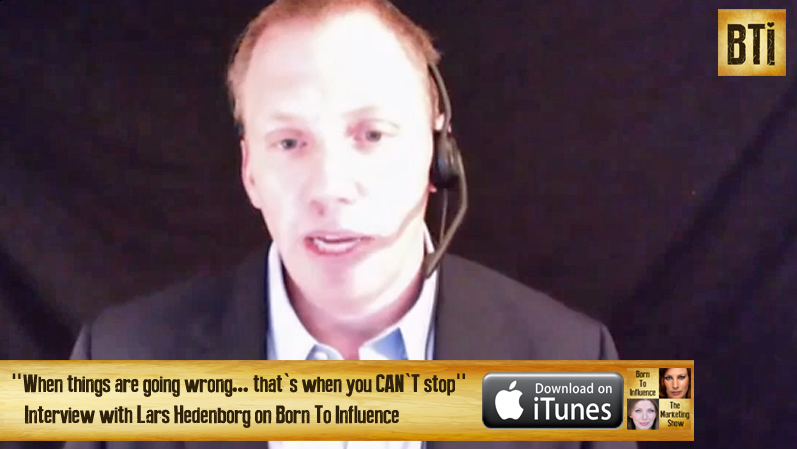 To listen to Lars' interview on the Born To Influence PODCAST, click HERE.

 To watch a little bit of Lars' interview on VIDEO, click HERE. (coming soon)
In this interview, we talked with Lars about:
From the aerospace industry to a seven figure real estate business
How he systematized his real estate agency
How to use Craigslist to generate targeted leads
How often to call your prospects depending on how long they've been in your funnel
How he generated 30,000 leads for his real estate business
What to do with our leads if you can't reach them on the phone
How to streamline your business
How to grow a team for your real estate business
How to filter your leads
How to generate good leads even in a bad economy
How to use content marketing for your real estate business
Lead generation in real estate vs info marketing
Lars Recommends (*affiliate):

Tweetable:
"When things are going wrong… that's when you CAN'T stop " Click To Tweet
Lars' Bio:
"Lars is currently broker/owner of RE/MAX Real Estate Experts in Charlotte, NC.
In 4 short years, Lars achieved Hall of Fame status with RE/MAX by earning in excess of $2.5M in gross commissions.
Lars currently leads a team of agents with combined 2012 production expected to be in excess of 275 sides and $60M in volume.
On his team, there are 2 Listing Partners, 6 Buyer Specialists, 3 Inside Sales Agents (2 Buyer and 1 Seller) and 3 Admin (Listing Mgr, Closing Coordinator and Marketing Mgr).
Lars graduated from Stevens Institute of Technology in 1995 with Bachelor's of Engineering degree and from Duke University's Fuqua School of Business in 2004 with Master's of Business Administration degree.
Before starting in real estate sales in 2007, Lars worked in various corporate roles including engineering project management for a utility company, corporate finance analyst for an NYC investment bank and acquisitions & strategic planning for an aerospace company.
Lars openly admits that he owes much of his success to standing on the shoulders of giants (his coaches) and humble implementation.
While Lars loves the real estate business, his true inspiration is his family; he and his wife Julie have 2 children, Anders (4) and Kendal (almost 2)."
To learn more about Lars Hedenborg, go to: http://www.larshedenborg.com
Join the Influencers' Inner Circle and receive exclusive tips and strategies on growing your publicity and exposure: