Born To Influence: The Marketing Show (Episodes 156 & 157)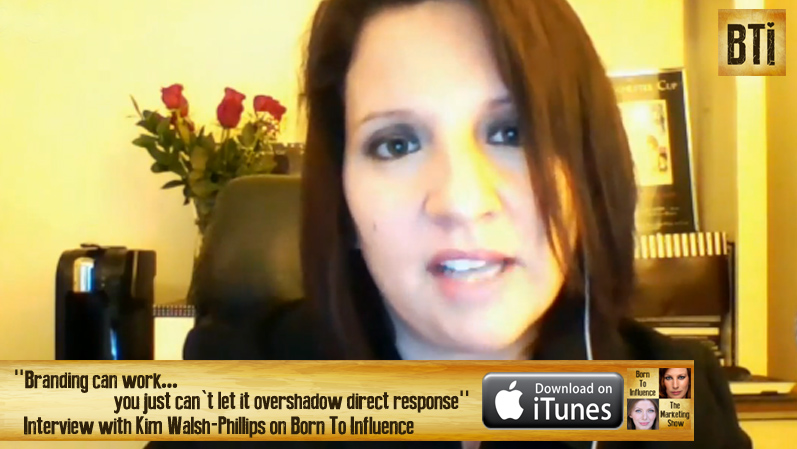 To listen to Kim's interview on the Born To Influence PODCAST, click HERE.

 To watch a little bit of Kim's interview on VIDEO, click HERE. (coming soon)
In this interview, we talked with Kim about:
How to test your new ad campaign with just $50
How to increase your ROI with your leads significantly
The truth about 1 cent like ads on FaceBook
What works best on FaceBook ads when targeting your own fans
How to get email opt ins from your FaceBook ads
How to generate buyers at the point of opt-in
What you need to focus on instead of getting new customers to increase your bottom line
When to ask for a referral from your customers
How to send business gifts that stand out
How to repurpose your content
How to create your content marketing plan ahead of time for the month
Why she prefers FaceBook advertising over other channels
How to track the effectiveness of your FaceBook ads
What mistakes you must avoid when launching a product
How to do PR where you can leverage it into sales
How to get into your client's mindset so you can communicate with them effectively
Kim Recommends (*affiliate):

Tweetable:
"Branding can work… you just can't let it overshadow direct response" Click To Tweet
Kim's Bio:
"Kim Walsh-Phillips, @KWalshPhillips, is the award-winning Speaker, Author, Strategist and CEO of IO Creative Group, a results-driven marketing and PR agency.
She is a techie marketing geek with great shoes, a hatred of awareness campaigns and an obsession for marketing with a sharp focus on ROI.
Kim has worked with brands such as Sandler Training, GKIC Insider's Circle, Ron LeGrand, The Millionaire Maker, Richard James' Automated Business Results, Lars Hedenborg's Ultimate Business Blueprint, Charlie McDermott's Business & Entrepreneur Network, Chris Cardell's Cardell Media Ltd, Ben McClure and Jeff Giagnocavo's Gardner Mattresses, Phillis Sax Pilvinis' PSP Associates, Harley-Davidson, Chem-Dry, and Hilton Hotels to increase revenue through direct response marketing.
For bonus resources, visit www.iocreativegroup.com/blog"
To learn more about Kim Walsh-Phillips, go to: http://kimwalshphillips.com
Join the Influencers' Inner Circle and receive exclusive tips and strategies on growing your publicity and exposure: