Born To Influence: The Marketing Show (Episodes 158 & 159)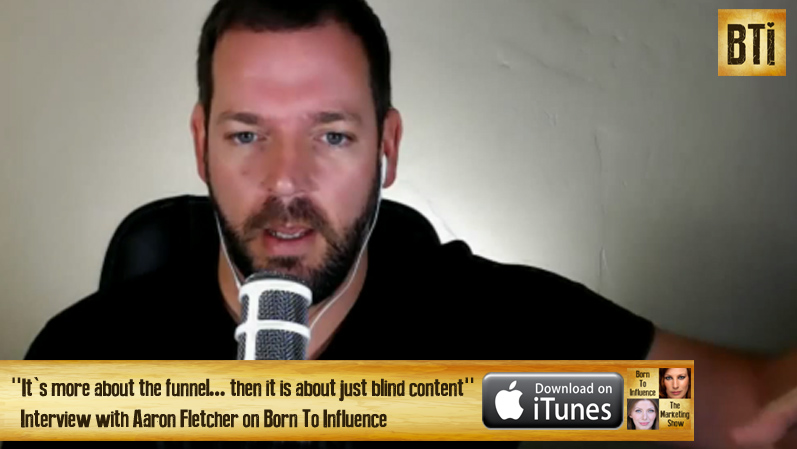 To listen to Aaron's interview on the Born To Influence PODCAST, click HERE.

 To watch a little bit of Aaron's interview on VIDEO, click HERE. (coming soon)
In this interview, we talked with Aaron about:
The one thing you must avoid doing if you want a successful business
How law firms can stand out in the market
Commodity branding
What you must do before building a web site
How small businesses can create an effective marketing and sales funnel
How to engineer referrals and reviews
How to create a content roadmap for your content marketing strategy
Content marketing for law firms and other small businesses
Where you're missing out on 80%of your potential business and how to avoid that
How to get referrals from your best clients
How to get reviews on Yelp and other review sites
How to release and repurpose your content in your marketing
What elements your web site must have
Mistakes business owners make when getting started with content marketing
How to maximize the traffic to your site
How to curate content for your social media pages the right way
The questions you should be asking about content marketing
How to find your why
Aaron Recommends (*affiliate):

Tweetable:
It's more about the funnel… then it is about just blind content ~Aaron Fletcher Click To Tweet
Aaron's Bio:
"Founder of Geek-Free Marketing and Best Legal Practices, Aaron N. Fletcher is an online marketing, consultant, educator, speaker and nationally published author of the new book Stand Out: A Simple and Effective Online Marketing Plan For Your Small Business.
Over the last 18 years, Aaron has become the "go-to" sales and marketing expert to small business owners, startups and entrepreneurs including Nolo.com, Caring.com, and Jay Abraham.
Aaron's mission is to help small business owners understand and implement simple yet extremely powerful marketing systems so they can achieve rapid business growth and financial freedom without spending a lot of time, money or technical overwhelm. Aaron's unique and holistic approach combines traditional direct response marketing strategies with cutting-edge digital systems and tools. And a healthy dose of dry humor to boot.
When not coaching clients or noodling around the interwebs, Aaron enjoys spending time with his wife and 3 kids, reading, travel and jiujitsu (not always in that order)."
To learn more about Aaron Fletcher, go to: geekfree.net or bestlegalpractices.com
Join the Influencers' Inner Circle and receive exclusive tips and strategies on growing your publicity and exposure: