(Born To Influence: The Marketing Show, Episodes 18 & 19)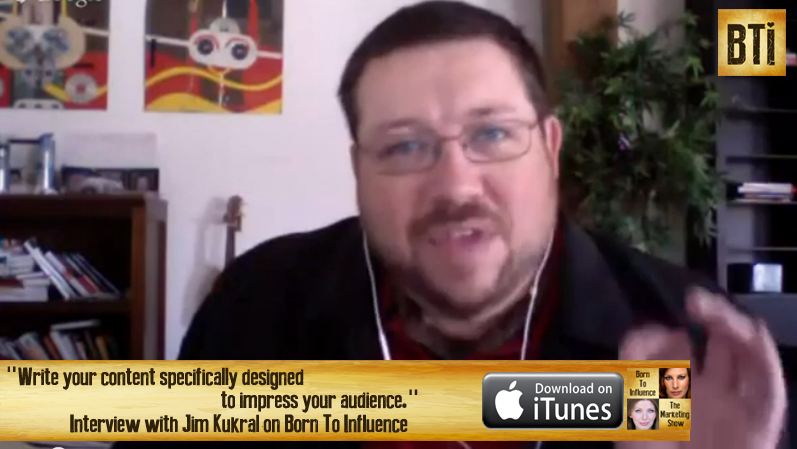 To listen to Jim's interview on the Born To Influence PODCAST, click HERE.

 To watch a little bit of Jim's interview on VIDEO, click HERE.
In this interview, we talked with Jim about:
What does a "lifestyle business" REALLY mean
How to get attention (and reactions) the right way
What changed in Internet Marketing over the last 17 years
The future of content marketing
How to get started with writing a book
The biggest mistakes he made in his business – why, what and what he should have done instead
Book recommendations from Jim Kukral (affiliate*): 
SPECIAL BONUS for you, Influencer:
Source:  http://www.jimkukral.com/wp-content/uploads/2012/12/13-reasons-infographic1.jpg
Jim Kukral's Bio:
Jim Kukral is a 16-year Internet marketing professional who was recently named by Dun & Bradstreet as one of "The Most Influential Small Business People on Twitter."
Jim also serves as a Program Faculty Member for the University of San Francisco's Internet Marketing Program where he teaches classes to students around the globe on the topics of Internet marketing, entrepreneurship and social media.
In addition, SmallBizTrends.com chose Jim as one of 100 top small business influencers online.
To learn more about Jim, go to: http://www.jimkukral.com
Join the Influencers' Inner Circle and receive exclusive tips and strategies on growing your publicity and exposure: