(Born To Influence: The Marketing Show, Episodes 20 & 21)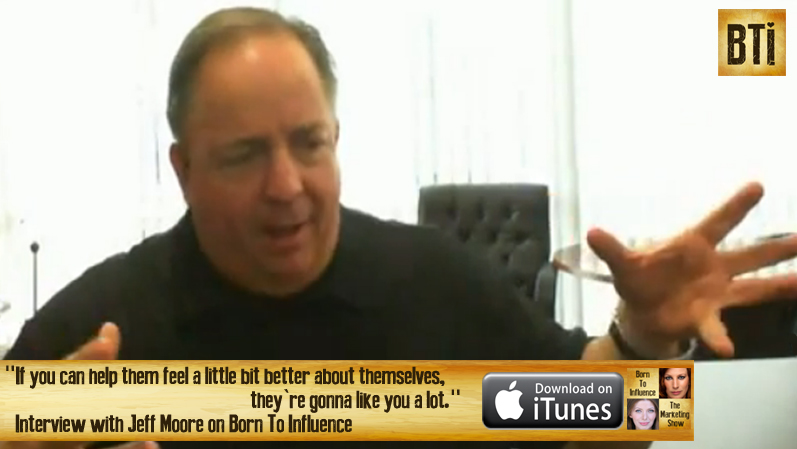 To listen to Jeff's interview on the Born To Influence PODCAST, click HERE.

 To watch a little bit of Jeff's interview on VIDEO, click HERE. (coming soon)
In this interview, we talked with Jeff about:
The five questions he asks his customers that helped him save his customers 3.5 M dollars over the last 6 years – and these work for ANY business
His MasterMind, the Thursday Night Boardroom that started with 4 people and now regularly hosts as many as 40+ entreprenerurs with highly successful businesses
How he helped a client raise 5 M in a 50 minute conversation
His formula how to break the ice with a customer that walks into a brick and mortar
The formula for presentations / webinars etc
His practice on how to put together a team that is productive and really performs
Jeff Moore's Bio:
President of International Pacific Seafoods, Inc. – A Specialty Importer, Customer Processor and Trader of Premium Quality, Chef Ready Frozen Seafood to the Foodservice and Retail segments. Primarily Foodservice driven.
Trusted advisor to Foodservice Distributors, Multi-Unit Chain Restaurants and various industry professionals from established enterprises outside of the food industry.
Known for short turn sales cycles, high conversions, value based quantifiable business solutions, team building and World Class lifelong customer and supplier relationships.
Experienced leader, coach and speaker. Creator of multilayer strategic initiatives involving suppliers and customers in tandem that share a common language called ValYOU.
President of Wild Things Seafood – A direct to consumer business that provides Premium Quality, Chef Ready Seafood, Beef, Pork, Lamb, veal and Poultry via Online and Warehouse Sales.
Passionate about marketing, providing actionable solutions, value creation and developing world class relationships and extraordinary performers.
Founder of a Business, Marketing and Life Style Mastermind Group called Thursday Night Boardroom with over 200 members in 17 different countries from dozens of industries.
Big Game Tracker, Professional Treasure Hunter, Featured Storyteller, Passionate Coach, Teacher and Lifelong Learner.
I believe all businesses have the same overriding purpose… To drive new, increased and/or more profitable consumption of their product, service or message. This means we all share a common core language and goal. When we work together using this premise, a mutually beneficial relationship occurs. These are the relationships that transform businesses and lives into world class extraordinary performing partnerships.
I live my life by one motto… Learn to Teach, Teach to Know, Know and Share and Share with PASSION!
To learn more about Jeff, go to: http://internationalpacific.com