(Born To Influence: The Marketing Show, Episodes 76 & 77)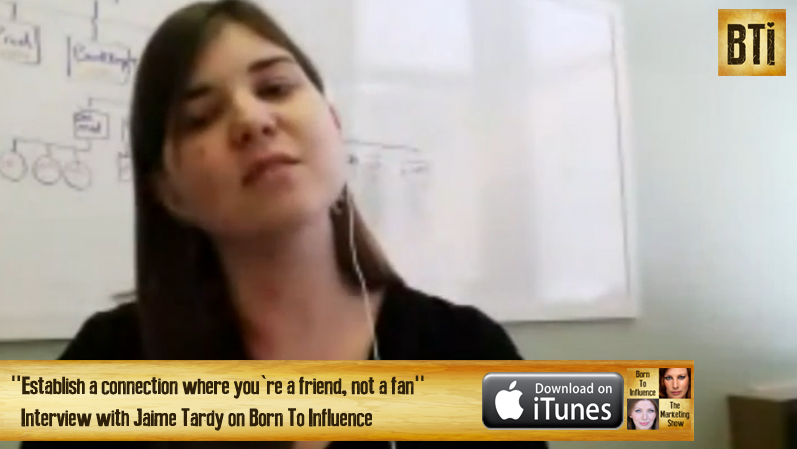 To listen to Jaime's interview on the Born To Influence PODCAST, click HERE.

 To watch Jaime's interview on VIDEO, click HERE (coming soon).
In this interview, we talked with Jaime about:
How she started a podcast interviewing millionaires even though she didn't know any millionaires at the time
Her biggest obstacles in starting a successful podcast and what she learned in terms of communication skills
How to establish a connection with the speakers at conferences before you even get there
How she met Daymond John from Shark Tank and how you can connect with key influencers while at the conference
What are the common characteristics of the 140+ millionaires she interviewed in her show so far
What she learned from Seth Godin about handling fear
How she handled her own fear when it came to her book launch
How to establish a relationship of accountability
What to look for a mastermind so it's the right fit for you
How to find the balance between participating in a good number of groups vs spreading yourself too thin
Her marketing strategy for launching her book

Tweetables:
"Establish a connection where you're a friend, not a fan" Click To Tweet
What Jaime Tardy learned from Seth Godin about handling fear Click To Tweet
Jaime Tardy recommends (affiliate*): 
Jaime's Bio:
"Ever since Jaime was little she wanted to be a millionaire, so she went to a great school and paved a path in corporate America. She ended up with what looked like an amazing life on the surface. She had a great career but hated it. She made great money, but was in $70,000 in debt. She paid off over $70,000 in debt in 16 months and quit her job, to start her own business.
Now Jaime has interviewed over 90 millionaires for her web show, Eventual Millionaire. She has been seen on CNN, MSN, Yahoo's homepage twice, Success Magazine, Kiplinger's Personal Finance Magazine and many more."
To learn more about Jaime, go to: http://eventualmillionaire.com