(Born To Influence: The Marketing Show, Episodes 74 & 75)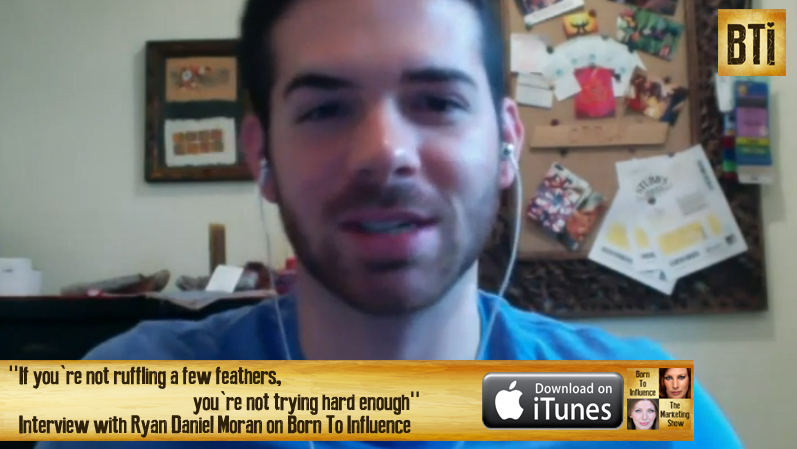 To listen to Ryan's interview on the Born To Influence PODCAST, click HERE.

 To watch Ryan's interview on VIDEO, click HERE (coming soon).
In this interview, we talked with Ryan about:
How he built his brand I love Yoga entirely on FaceBook in less than a year to a seven figure business
Why Ryan says email is a "dinosaur"
How to use giveaways to get the ball rolling when introducing your product for sale
How to use FaceBook ads to drive traffic to your community page
How to be true to yourself in your marketing even if the product you're selling is unrelated to your core beliefs
How he got through a difficult time in his business and the revelation he took away from it
His techniques on getting rid of negative self-beliefs
The two things you need to pay attention in order to continuously grow
His simple method for getting motivated for things you don't usually like to think about
His formula on how to keep your social life healthy
The criteria to keep in mind when choosing a business partner
The future of media consumption
His tips on targeting your market precisely

Tweetables:
Ryan Daniel Moran recommends (affiliate*): 
Ryan's Bio:
"Ryan Moran is a serial entrepreneur, comedian, world traveler, and author of "The Freedom Manifesto."
Ryan believes that life is meant to be enjoyed, and that life is too short to do crap that you hate. He believes that life is as abundant and as happy as you decide it to be, and that we are all unlimited in our capacity to create, grow, and contribute.
Aside from his consulting practice, his yoga products business, his supplement company, his restaurant, his real estate investments, and his world traveling adventures, he runs FreedomFastLane.com to inspire, educate, and empower people to live extraordinary lives."
To learn more about Ryan, go to:  http://freedomfastlane.com
Join the Influencers' Inner Circle and receive exclusive tips and strategies on growing your publicity and exposure: