(Born To Influence: The Marketing Show, Episodes 78 & 79)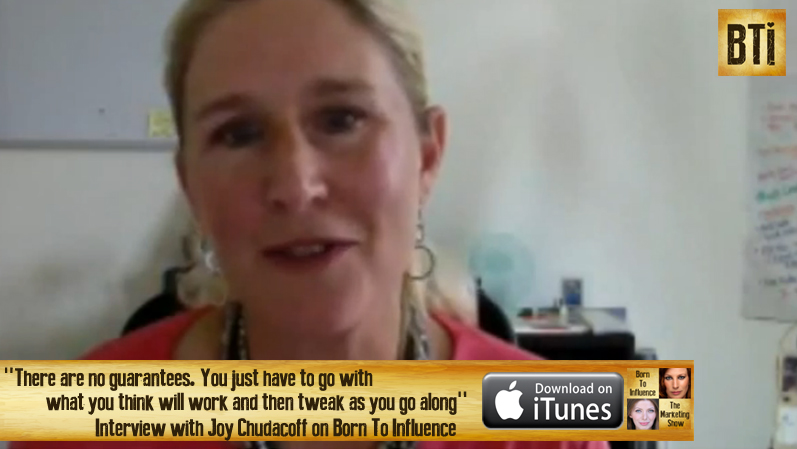 To listen to Joy's interview on the Born To Influence PODCAST, click HERE.

 To watch Joy's interview on VIDEO, click HERE (coming soon).
In this interview, we talked with Joy about:
What makes people buy
What to focus on when meeting new people (hint: it's not your elevator pitch)
What questions to ask to pre-screen your prospects before getting on the phone with them
The things that worked well and the things that didn't when she first launched her coaching business
Her formula on how to grow your network to start with group programs
Her tips on how to network if you're an introvert
Her strategies on how to tap into your passion when starting a new business
How men and women are different in business
What you need to test when entering a new phase of growth
The best way to grow your client list extremely fast

Tweetables:
"There are no guarantees. You just have to go with what you think will work and then tweak as you go along" Click To Tweet

.@JoyChudacoff shares her tips on how to network if you're an introvert
Joy Chudacoff recommends (affiliate*): 
Joy's Bio:
"Heralded as "The Coach for Women" in the millennium, Joy Chudacoff has x-ray vision when it comes to helping women discover their Big Ideas, Dreams and Goals. Joy draws on both her personal life and entrepreneurial experiences to support women in achieving business and personal success. It's her passion, her purpose and her business. She is a Professional Certified Coach, highly skilled group leader, motivational speaker and a gifted communicator.
An entrepreneur for over 2 decades, Joy knows what it's like to be a woman who integrates family and passionate work together. As a wife and mother of two, Joy understands the importance of self-care, family and reaching her entrepreneurial dreams of supporting women. Joy is on the Advisory Board for Women for Hire as well as a founding Board Member for The Broad's Circle.
Joy Chudacoff Coaching WomenShe is the Business and Life Coach for the National Association of Entrepreneur Moms and was awarded the 2009 Ali Brown Millionaire Protégé Club Platinum Excellence Award for having the most successful business programs that achieved growth in terms of clients and income. In addition, Joy is an Elevate™ Coach for Ali International, a coaching company that serves over 50,000 entrepreneurs worldwide and a writer for Today's Womanpreneur magazine.
Most recently, Joy was nominated and selected to become a member of Leadership America, a small select group of 50 business women nationwide who gather on policies and decision making for women. In her local community, Joy serves as a Girl Scout Troop Leader to foster confidence and leadership in young girls who will be the leaders of tomorrow."
To learn more about Joy, go to: http://smartwomensolutions.com
Join the Influencers' Inner Circle and receive exclusive tips and strategies on growing your publicity and exposure: