Born To Influence: The Marketing Show (Episodes 164 & 165)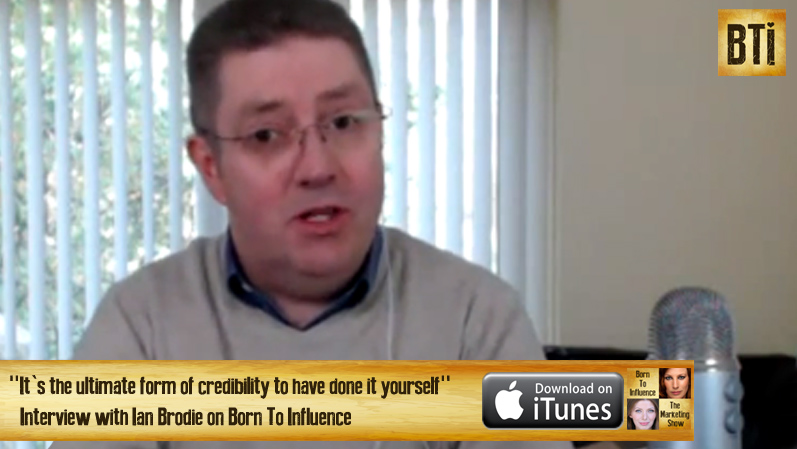 To listen to Ian's interview on the Born To Influence PODCAST, click HERE.

 To watch a little bit of Ian's interview on VIDEO, click HERE. (coming soon)
In this interview, we talk with Ian about:
The practical differences between marketing and advertising for small businesses vs large companies
How to get your value across even if you're introverted or shy
How to differentiate between strategies that don't suit you vs being lazy
The differences between selling and marketing the intangible vs the tangible
How to offer a "test drive" to demonstrate your skills when selling a service without doing free coaching sessions
The intangible elements of the sales conversation and how to go beyond talking about the deliverables
Follow up marketing and how to build confidence in your prospects
The best media you can use to offer your prospects to experience working with you
How to know when drilling down to find the niche is enough and you need to start marketing
The formula of figuring out how to be distinguished
How to create a good value proposition for coaches and consultants
What kind of content to put in your email marketing campaigns
How to nurture the relationship with your prospects so that they want to work with you how to conduct strategy sessions that convert
The future of webinars
How to build a connection with your audience
How to close the sale without being pushy
Ian Recommends (*affiliate):

Tweetable:
It's the ultimate form of credibility to have done it yourself ~ Ian Brodie  Click To Tweet
Ian's Bio:
"Ian Brodie works with consultants, coaches and other professionals to help them attract and win more clients. He teaches them how to market effectively, how to become seen as leaders in their field, and how to nurture relationships and win business through email marketing.
He was recently named as one of the "Top 50 Global Thought Leaders in Marketing and Sales" by Top Sales World magazine, and one of the "Top 25 Global Influencers in Sales and Sales and Sales Management" by OpenView Labs. Salesforce.com picked him as one of their "Social Business Dream Team" and Raintoday.com named his website as one of the "Resources of the Decade" for Professional Services Marketing.
He lives in Cheshire in the UK with his wonderful and understanding wife Kathy who put up with him agonising over this book, and their two fantastic kids Chris and Robs. He's a long-suffering Newcastle United supporter and in his spare time he likes to practice and perform close-up magic (though not very well).
After working his socks off building a consulting business that depended on his personal involvement and effort to win new clients, he discovered that through online and email marketing he could reach and help more people, have more impact, and win a lot more business. He's personally used the strategies he outlines in this book to grow his own and his clients' businesses. And if you follow the strategies outlined in his books, you can do the same."
To learn more about Ian Brodie, go to: ianbrodie.com.
Join the Influencers' Inner Circle and receive exclusive tips and strategies on growing your publicity and exposure: