Born To Influence: The Marketing Show (Episodes 166 & 167)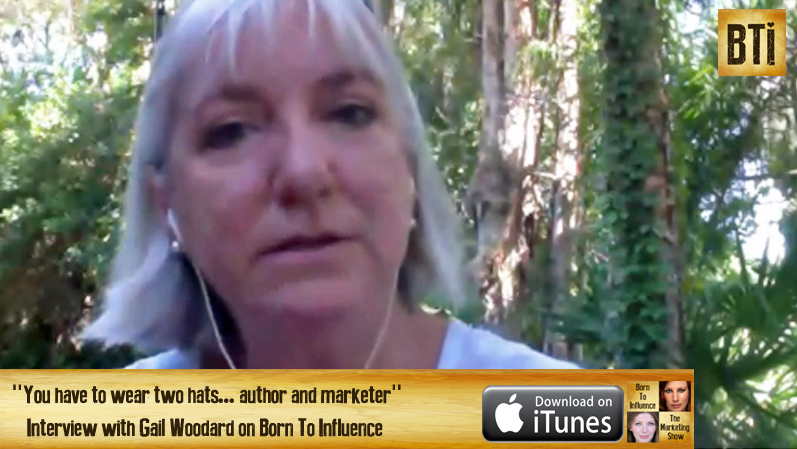 To listen to Gail's interview on the Born To Influence PODCAST, click HERE.

 To watch a little bit of Gail's interview on VIDEO, click HERE. (coming soon)
In this interview, we talk with Gail about:
What writing a book can do for you and your business
How to market your book
Common mistakes when self-publishing a book
The truth about ISBN numbers and why it matters
When to line up the editing and marketing for your book
How to map out your marketing plan for your book that works for your personality
Creative marketing strategies for generating buzz for your book
How to create a reader group for feedback during the writing process
How to use your book to your advantage when negotiating your speaking fees
How to use your book for prospecting and customer retention
Gail Recommends (*affiliate):

Tweetable:
You have to wear two hats…author and marketer ~ Gail Woodard  Click To Tweet
Gail's Bio:
"Born in Boston, I graduated from Albertus Magnus College and earned an MBA from Yale University. After fifteen years in the corporate world focused on strategic planning and marketing, I closed my consulting practice to begin a new adventure – home-schooling my three sons, then ages 8, 6 and 3. For the next decade, we learned and grew together, exploring all our Santa Barbara, CA neighborhood had to offer, traveling around the U.S. and living in both Mexico and France.
Later I lived in southern Arizona where I taught finance & management at the University of Arizona South and yoga in my home studio. Most recently I've become 'happily homeless,' exploring parts of the U.S. and Latin America as I continue to grow my publishing services business, www.DudleyCourtPress.com. Thanks to technology, I'm always in touch with my clients and team, as well as with family and friends, around the globe.
As publisher and author coach at Dudley Court Press, I help authors clarify and achieve their publishing goals. My way of living a joyful life today is to assist business and wellness professionals get their books done, and done right. Using technology and taking advantage of all the offerings within the publishing industry today, my team helps authors make the right strategic choices for writing, designing, publishing and marketing meaningful books. If you've got a book project in mind, or if you've got questions about living your live more joyfully, please visit www.DudleyCourtPress.com and drop me a note.
Life on this Earth is short – why not make it sweet? Here's to your joy! -Gail Woodard"
To learn more about Gail Woodard, go to: dudleycourtpress.com.
Join the Influencers' Inner Circle and receive exclusive tips and strategies on growing your publicity and exposure: