Born To Influence: The Marketing Show (Episodes 162 & 163)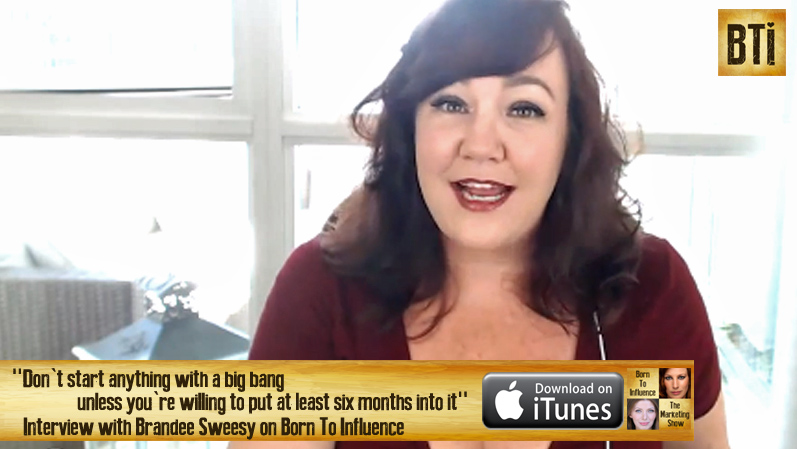 To listen to Brandee's interview on the Born To Influence PODCAST, click HERE.

 To watch a little bit of Brandee's interview on VIDEO, click HERE. (coming soon)
In this interview, we talk with Brandee about:
What to use Google Hangouts for in your business
How to increase engagement with your clients & customers
How to be authentic while keeping congruent with what your profession expects of you
How to humanize your brand with technology
When you need a producer for your Google Hangouts and when it's enough to do it yourself
What elements go into creating a successful Google Hangout
How to use Google Hangouts to be on page 1 of Google before you press the Broadcast button
Google Hangouts vs YouTube Live Events
How to title your Google Hangouts correctly for great keyword search results
How to promote you Google Hangout events
How to get comfortable on camera
When to schedule your live Google Hangouts
How to manage unexpected changes on free platforms
How to use Hangouts for marketing offline businesses
What mistakes to avoid when doing Google Hangouts
Brandee recommends (*affiliate):

Tweetable:
Don't start anything with a big bang unless you're willing to put at least 6 months into it ~ Brandee Sweesy  Click To Tweet
Brandee's Bio:
Brandee Sweesy is the leading Hangout Marketing Expert. With 20 years marketing and public speaking experience she helps coaches, speakers, online thought leaders and businesses to Engage! Ignite! Expand!® their audiences with Google Hangouts and live video. With her unique strategies, clients drive thousands of viewers and thousands of dollars in sales every month using Google Hangouts.
To learn more about Brandee Sweesy, go to: brandeesweesy.com.
Join the Influencers' Inner Circle and receive exclusive tips and strategies on growing your publicity and exposure: