Born To Influence: The Marketing Show (Episodes 108 & 109)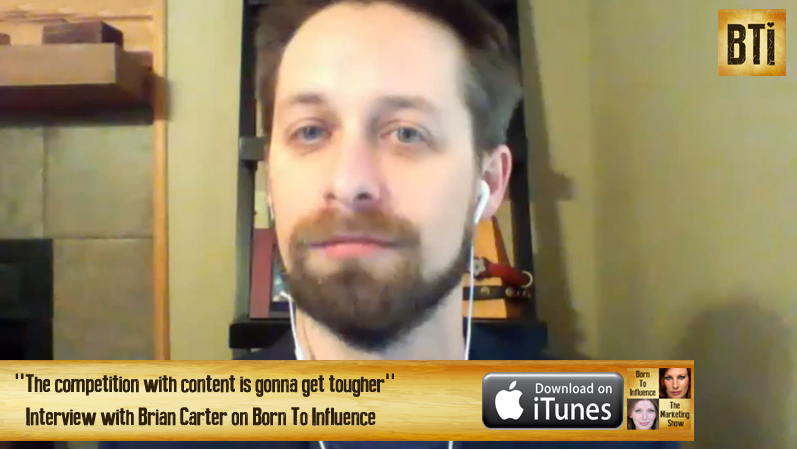 To listen to Brian's interview on the Born To Influence PODCAST, click HERE.

 To watch a little bit of Brian's interview on VIDEO, click HERE. (coming soon)
In this interview, we talked with Brian about:
How to find the right keywords
Humor in digital marketing
How to "kill two birds with one stone" when it comes to retargeting and email opt-ins
How to prevent running out of ideas for your ads
How to prioritize who to include in your retargeting campaigns
How to get started with retargeting cookies no money down
How to spread your ads across different FaceBook campaigns
How to maximize the value you get from your ads on pre-rolls on YouTube videos
What types of videos for video ads on YouTube
Why be boring on purpose on YouTube
How to target your ads on YouTube
What no one saw about FaceBook when it first came out
Brian recommends (affiliate*):
Brian's Bio:
"Brian Carter is respected as an international authority on how top performing organizations can generate bigger business results. His 18 years of business success guide The Carter Group, which strives to provide the best possible service and results in the digital marketing industry.
Brian develops strategies and builds search visibility and social marketing fanbases for companies of all sizes, including Microsoft, Universal Studios, The U.S. Army, The World Health Organization, PrideStaff, Hardee's and Carl's Jr. He has been quoted and profiled by Information Week, ABC News, U.S. News & World Report, Mashable, The Wall Street Journal, Forbes, Inc. Magazine, and Entrepreneur Magazine.
Brian is the internationally bestselling author of The Like Economy, the forthcoming LinkedIn for Business: How Advertisers, Marketers and Salespeople Get Leads, Sales and Profits, and co-author of Facebook Marketing.
Brian has written for most of the top popular marketing blogs including Social Media Examiner, Mashable, Convince & Convert, Search Engine Journal and AllFacebook. Brian has an overall reach of more than 150,000 fans through Facebook, Twitter, LinkedIn, and his other marketing channels. He has trained and managed Gen X and Gen Y employees, and taught more than 10,000 students.
Brian has spoken at top marketing conferences including Social Media Marketing World, Moz, SMX, Pubcon, The AllFacebook Expo and Socialize and The American Marketing Association. His hands-on business experience, cutting edge insights, background in improv and stand up comedy culminate in a keynote speaker and trainer who leaves every audience not only entertained, but armed with powerful strategies and tactics. Brian is a seasoned expert and most entertaining presenter in Internet marketing."
To learn more about Brian Carter, go to: http://briancarteryeah.com or email him at thebcarter@gmail.com
Join the Influencers' Inner Circle and receive exclusive tips and strategies on growing your publicity and exposure: