(Born To Influence: The Marketing Show, Episodes 54 & 55)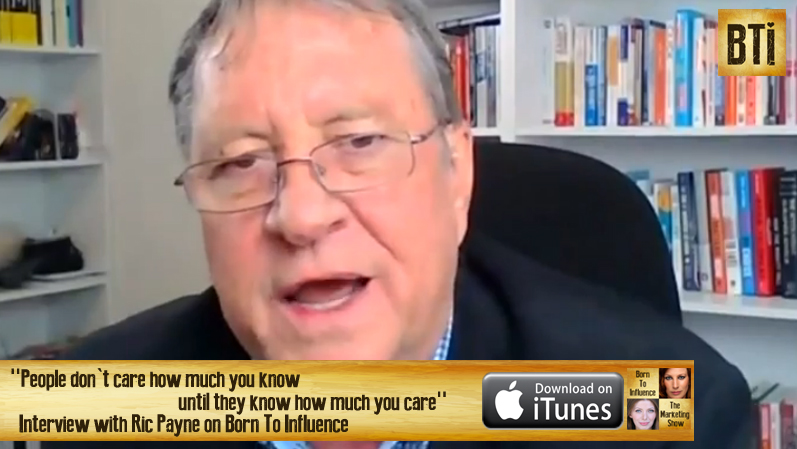 To listen to Ric's interview on the Born To Influence PODCAST, click HERE.

 To watch Ric's interview on VIDEO, click HERE (coming soon).
In this interview, we talked with Ric about:
What was the mindset shift that made the biggest difference for him that set him on the path of success
How he built a true community amongst his employees
How he built his business before venturing online through workshops and speaking gigs
How to get sponsors for your events
How to build a stronger relationship with your clients for more referrals
Recouping yourself after experiencing failures
What he looked for in his new hires while growing a business that is now $470 million / yr
The strategy for shifting your business so you move to high paying / low volume (as it relates to acquiring new clientele)
Ric Payne's Bio:
"The Founders and management team of Principa have long been innovators and change-leaders in the global SME consulting arena.
Ric Payne, Principa's founder and CEO also founded Results- Accountants- Systems and the Accountants- Boot Camp programs, both of which were instrumental in revolutionizing the accounting profession around the world.
He and co-founder Kerry Payne, together with their teams around the world, are passionate in the pursuit of their vision and mission and are committed to helping their member firms run a better practice, make more money for less effort, and make a real and lasting difference their work."
To learn more about Ric, go to: http://principa.net
Join the Influencers' Inner Circle and receive exclusive tips and strategies on growing your publicity and exposure: