Born To Influence: The Marketing Show (Episodes 146 & 147)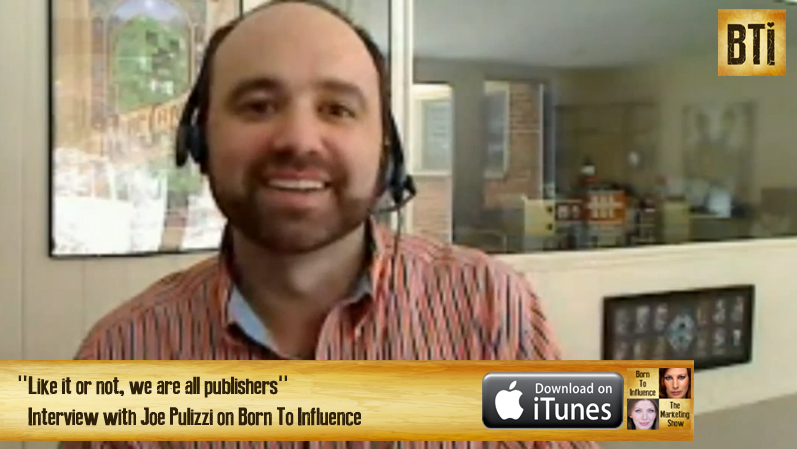 To listen to Joe's interview on the Born To Influence PODCAST, click HERE.

 To watch a little bit of Joe's interview on VIDEO, click HERE. (coming soon)
In this interview, we talked with Joe about:
How to create the content marketing strategy that's right for you
How to minimize your advertising costs
How to do your content re-purposing strategy correctly in your marketing
What to do before creating new content
How to create a book from your content
Pros and cons of FaceBook groups
The step-by-step for creating a content marketing strategy
Whether or not production quality matters in video in content marketing
The truth about viral marketing
How long it takes for your content marketing to start generating results
How to evaluate whether your content marketing strategy is working before it starts generating direct results
The three legs each company's content marketing strategy must be built on
The role of print media in content marketing
How to create 20 pieces of content from one speaking gig
How to create content for a whole year ahead of time
The one quality your content MUST have
User generated content vs your own for best consistency
How to get the Influencers in your niche to share your content
Joe Recommends (*affiliate):

Tweetable:
"Like it or not, we are all publishers" Click To Tweet
Joe's Bio:
"Joe Pulizzi is founder of Content Marketing Institute, the leading education and training organization for content marketing, which includes the largest in-person content marketing event in the world, Content Marketing World.
Joe's third book, Epic Content Marketing: How to Tell a Different Story, Break through the Clutter, and Win More Customers by Marketing Less was named one of "Five Must Read Business Books of 2013" by Fortune Magazine.
You can find Joe on Twitter @JoePulizzi. If you ever see Joe in person, he'll be wearing orange."
To learn more about Joe Pulizzi, go to http://joepulizzi.com.
Join the Influencers' Inner Circle and receive exclusive tips and strategies on growing your publicity and exposure: