(Born To Influence: The Marketing Show, Episodes 38 & 39)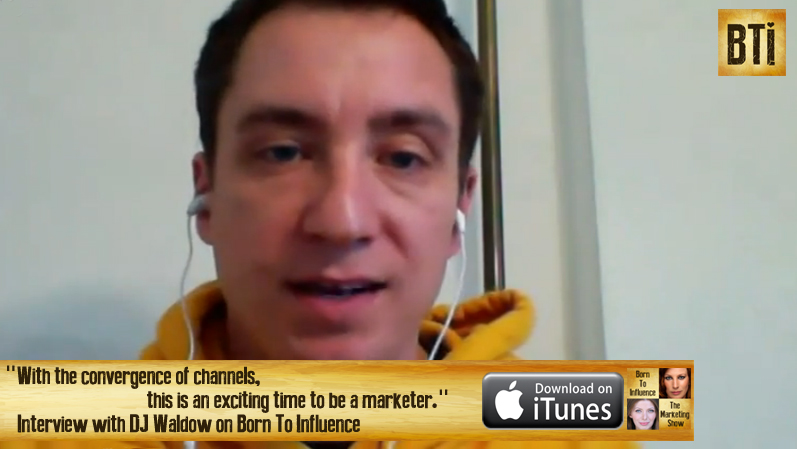 To listen to DJ's interview on the Born To Influence PODCAST, click HERE.
In this interview, we talked with DJ about:
How he got a job using Twitter
What is marketing automation
How to use content marketing to educate your prospects about your product without being salesy
The huge mistakes Lowe's made in their marketing to DJ and thousands of other homeowners
How to combine your online marketing with your offline marketing so your promotions don't cross and you don't alienate your customers
What do you need to know about your prospects progress of consuming your marketing in order to find what really works for converting prospects to customers
What munchkins are (not his kids! 🙂 ) and how to use them in your marketing to find out what pieces of marketing collateral are really working in your funnel
How tracking works with direct mail and what you can do to optimize the synergy between your online and offline campaigns
Google, "The Knower of Everything" (<– word association game we played with DJ)
The future of digital marketing
Book recommendations from DJ Waldow (affiliate*): 
Get great content from DJ (for FREE) – subscribe to his podcasts:
DJ Waldow's Bio:
"DJ Waldow is the Digital Marketing Evangelist at Marketo, a San Mateo, CA-based marketing automation software company. He is a writer, blogger, speaker, and co-author of The Rebel's Guide to Email Marketing. DJ has spent more than 8 years in the email, social, and community-building world, advising clients on how to optimize their email marketing campaigns and–on occasion–break some of the "best practice" rules.
DJ is also the co-host of The Work Talk Show, a weekly podcast on how work gets done.
DJ can be found on most social networks under the handle "djwaldow" or by searching "DJ Waldow." DJ is an alumnus of the University of Michigan (Go Blue), a knowledge craver, a sponge, & a lover of beer, coffee & people."
To learn more about DJ, go to: http://blog.marketo.com/blog/author/dj-waldow
Join the Influencers' Inner Circle and receive exclusive tips and strategies on growing your publicity and exposure: