(Born To Influence: The Marketing Show, Episodes 32 & 33)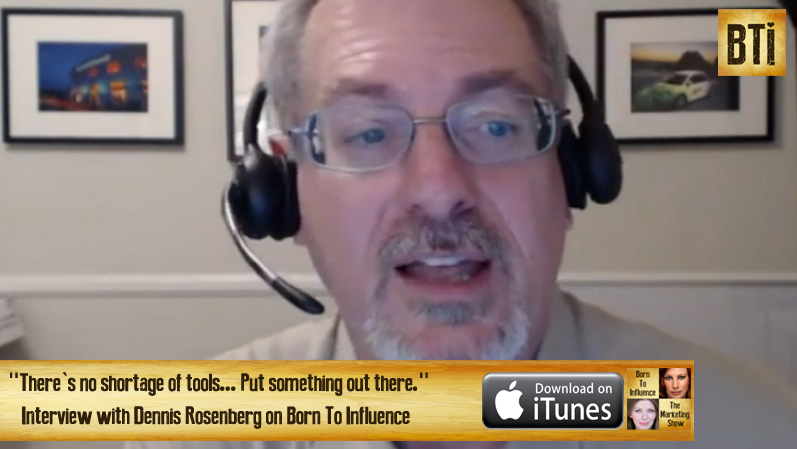 To listen to Dennis' interview on the Born To Influence PODCAST, click HERE.

 To watch Dennis' interview on VIDEO, click HERE.
In this interview, we talked with Dennis about:
Dennis' journey from a boutique ad agency in NY to specializing in paid online advertising
Dennis debunks the myth of "free" online advertising through visibility
What's better for sales: branding or direct response advertising
The key elements of setting up a PPC campaign so that it yields measurable and profitable results
How to build an email sequence that gets good opens
The key questions to ask yourself when setting up the framework for your marketing message
How to "keep the conversation going" once they clicked on your ad – what to say on the landing page, etc
Dennis Rosenberg's Bio:
"Dennis Rosenberg is a senior level executive with over 25 years marketing, sales and computer experience. Online since 1998, he has focused extensively on medical internet marketing since 2007.
Previously Dennis served for three years as VP, Marketing at Bacchus Vascular, Inc., a privately-held medical device company, which was acquired by Covidien in March, 2009. Subsequent to the acquisition, he served on the Covidien transition team for 15 months.
Prior to that, Dennis spent three years as VP, Marketing and International Sales at VNUS Medical Technologies, Inc., a previously publicly-held medical device company (formerly NASDAQ: VNUS) which was also acquired by Covidien in 2009.
Previously Dennis was co-founder and VP, Marketing & Sales, for three medical device start-up companies: Eclipse Surgical Technologies (IPO in 1996 at a valuation of $300M), MD DataDirect (acquired) and Atlantis Catheter Company (acquired).
Dennis' consumer marketing experience includes roles as a VP of the software distribution division of Random House, at that time the world's largest information publisher, and Art Director at a boutique New York City advertising agency, Serino & Coyne.
Dennis has a degree in computer programming from New York University, where he also studied at the School of Film and Television."
To learn more about Dennis, go to: http://dennisrosenberg.com