(Born To Influence: The Marketing Show, Episodes 70 & 71)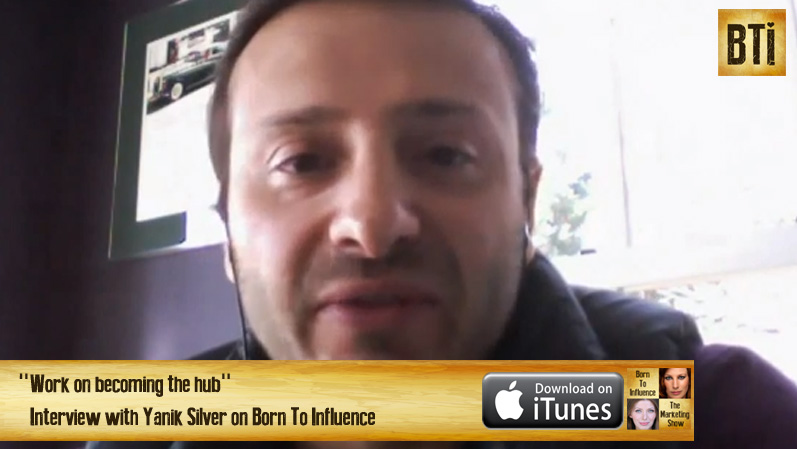 To listen to Yanik's interview on the Born To Influence PODCAST, click HERE.

 To watch Yanik's interview on VIDEO, click HERE (coming soon).
In this interview, we talked with Yanik about:
How to determine before committing something whether it's a diversion or something that will help you towards your goal
How to distinguish between "inner brat" and following your calling
A case study on a company changing the world
When corporate philanthropy is a gimmick and when is it real
Partnerships with non-profits and how to make sure you do it right
How to market a non-profit where it empowers people rather than positioning them as victims
Conversation crutches / conversation catalysts a creative way to get your team involved in your philanthropic work
How to bring a sense of fun back to your business
How to play dinner quirks
The game he plays with his kids and how it can help you grow your business
How to use your vision to get your team, investors, customers involved
Using stories as psychological triggers to build our vision
The two things you need to learn that have the biggest multiplier effect on your business
How to set intentions rather than goals based on the essence of the experience you want

Tweetables:
Yanik Silver recommends (affiliate*): 
Mette recommends (affiliate):
Yanik's Bio:
"Yanik Silver is a serial entrepreneur although he still considers himself a 'techno dunce'. Starting from his one-bedroom apartment and with just a few hundred dollars, Yanik has built multiple 7-figure businesses.
He is the author, co-author or publisher of several best-selling marketing books and tools including Moonlighting on the Internet, Instant Sales Letters® & 34 Rules for Maverick Entrepreneurs. Yanik is a highly sought after speaker addressing groups ranging from the prestigious Wharton Business School to international audiences of 3,000+.
As a self-described "adventure junkie", Yanik has found that his own life-changing experiences such as running with the bulls, bungee jumping, sky diving, exotic car road rallies and Zero-Gravity flights have not only brought a profound sense of accomplishment but also led to breakthroughs in ideas, focus and business thinking. That's why he combined both his passions to found Maverick Business Adventures creating the kind of "club" he'd want to be part of. In between adventures, he calls Potomac, Maryland home with his wife, Missy, and 2 mavericks in the making, Zak & Zoe.
Currently his most important mission is impacting 1,000,000 young entrepreneurs (ages 13-23) to start or grow their business by 2020 and to get his 2½ year old daughter, Zoe, potty trained."
To learn more about Yanik go to: http://surefiremarketing.com
Join the Influencers' Inner Circle and receive exclusive tips and strategies on growing your publicity and exposure: