(Born To Influence: The Marketing Show, Episodes 48 & 49)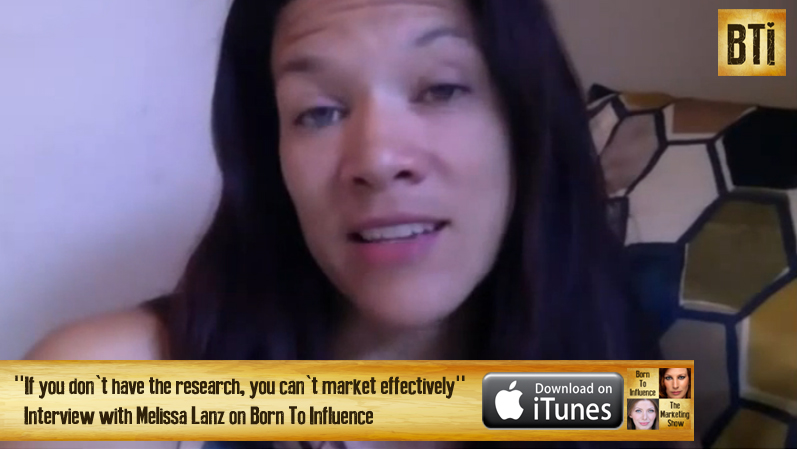 To listen to Melissa's interview on the Born To Influence PODCAST, click HERE.

 To watch Melissa's interview on VIDEO, click HERE (coming soon).
In this interview, we talked with Melissa about:
How she used "thinking small" to build a 7 figure business (90k subscribers) in 3 years
How she conducted her initial research to enter a new market (and how to use surveys creatively)
The one key thing that made the biggest difference for her to be able to market effectively
How to analyze your five different avatars (sample questions) –
The most imporant questions you need to ask yourself before you spend a dime on marketing
How to get started with advertising for online subscription businesses
What to look for in promo partners
The biggest mistake she made (had she not made this mistake, her business would be double in size)
How to use analytics to find out what content to offer
What someone did *really* wrong when approaching Melissa (and because of this, they did not get the Fresh 20)
Melissa Lanz recommends (affiliate*): 
Melissa Lanz's Bio:
"Melissa Lanz is a former internet marketing executive who quit her day job to promote healthy eating habits by creating The Fresh 20, an ingenious meal planning service.
At a time in our society when consuming processed foods have become a quick fix staple in busy households, Melissa created The Fresh 20 show families and individuals that there is a better alternative that is easier, healthier, and cheaper.
With each week's meal plan, Melissa's strives to bring fresh, seasonal food back to mealtime and promotes locally grown, unprocessed ingredients in every recipe.
Since the inception of The Fresh 20, Melissa's has been beyond successful in achieving her goals: to make 'the family meal' a destination, and share her beliefs that health and happiness start in the kitchen.
Melissa has been featured in Prevention, The New York Times, InStyle, USA Today's Annual Kids Health Issue, Family Circle, Working Mother, Parents, Shape Magazine.(Please go to The Fresh20.com/Melissa Lanz.com for a complete list of articles.)
In describing herself and her philosophy, Melissa said, "Health and happiness in all things is my mojo. Business is my passion. I'm a serial entrepreneur, a writer and a cook. I believe that small changes every day add up to the sum of the best of us."
Melissa resides in Los Angeles, living with three boys. One of them she calls 'Hubby'.
In the Spring of 2013 Melissa released The Fresh 20 Cookbook (Harper Collins/William Morrow ) and continues to promote nutritional education and healthy cooking in speaking engagements throughout the United States."

To learn more about Melissa, go to: http://www.thefresh20.com
Join the Influencers' Inner Circle and receive exclusive tips and strategies on growing your publicity and exposure: